Lupita Nyong'o teases her Star Wars future. Agents of SHIELD reveals Dove Cameron's mysterious character. Bruce Campbell says there's a huge fight coming in the next season of Ash vs. Evil Dead. Plus, new snippets from Black Panther and A Wrinkle in Time, and a sneaky glimpse at Annihilation. Spoilers now!

Avengers: Infinity War
A Reddit user has revealed an Avengers: Infinity War Funko Pop figure of Thor, with both his new ax and a stylish facial scar in place of an eyepatch on. The axe is presumably the movie universe's answer to Jarnbjorn, the weapon his comics self used before he earned the ability to wield Mjolnir (and currently uses now that he is no longer worthy of using the hammer). But Funko's design bears more than a passing resemblance to the Mjolnir used by the Thor of the Ultimate Marvel Universe in the comics.
Meanwhile, speaking with AOL, Emily VanCamp revealed she doesn't think Sharon Carter will be among the almost-endless litany of familiar faces appearing in either Avengers 4 or Infinity War.
It's hard to fit Sharon into that, she's really in Cap's world. She sort of fits into the Captain America movies, that's where her sort of story lies, but I can tell you it's going to be like an epic two-parter.
Lastly, Gwyneth Paltrow may have revealed Pepper Potts still has the superpowers she gained in Iron Man 3 during a recent interview with Stephen Colbert.
Colbert: Is there any chance, at any point, when you were working on the movie, did you thrust your hand toward someone wearing a blue suit with ping pong balls on it?

Paltrow: Yes.

Colbert: Then you still have powers.
---
Star Wars Episode IX
Speaking with THR, Luptia Nyong'o stated she'll "know soon" whether she's returning to play Maz Kanata in Episode IX.
G/O Media may get a commission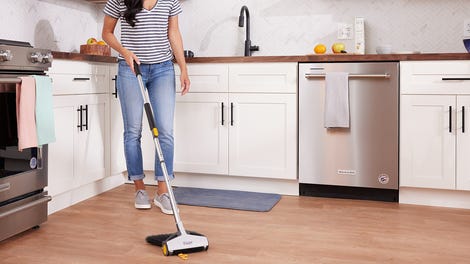 BOGO 50% Off
Flippr - BOGO 50% Off
---
Annihilation
Copy the text from the cryptic tweet below, then head over to ForThoseThatFollow.com. Paste the text, hit "decode message," and enjoy thirty seconds of new footage from Annihilation. It's worth it!
---
Venom
Turkish news outlet Kültürpat recently captured set footage of Michelle Williams' character in an argument with Eddie Brock.

---
Mission: Impossible - Fallout
Tom Cruise balletically leaps between buildings in the latest set photo.
Meanwhile, Coming Soon has a photo of the mustachioed Henry Cavill at the Eiffel Tower with Angela Bassett. We're getting Amanda Waller vibes...
---
Early Man

Tom Hiddleston's Lord Nooth receives a "message bird" in the latest clip.
---
Red Sparrow
Learn the ropes of the Sparrow program in the latest TV spot.
---
A Wrinkle in Time
An evil is coming in a new spot for A Wrinkle in Time.
---
Black Panther
We also have another TV spot for Black Panther, with a few new lines of dialogue and more shots of the women of Wakanda kicking some serious butt.


---
Agents of SHIELD
Entertainment Weekly has our first look at Dove Cameron as Ruby, "a young woman of cunning intelligence who has a mysterious obsession with Daisy Johnson" and who also happens to be the daughter of General Hale.
---
Titans
That Hashtag Show has a casting call for an East Indian character speculated to be Solstice.
MONICA SAINI – Female, early 20s-early 30s, East Indian. Has the mentality of a survivor and the scars along with it. Unsettled and a little unusual. Orphan. Limited dialogue in her first appearance. Must be familiar with Hindi. POSSIBLY RECURRING GUEST STAR
---
Ash vs the Evil Dead
Speaking with Bloody-Disgusting, Bruce Campbell revealed Ash will be fighting a 60-foot tall deadite in season three.
It's the big one, the mother of all demons. That's what Ash is fighting with the tank, so it ends up that Ash is finally going to fulfill his destiny. He has to own up to who he is – if he's the chosen one.

Sam (Raimi)'s theory has always been that every millennia, the evil rises to test the mettle of the average man, not the special man, the average man. It's a little biblical because there's some story in the Bible, Evil's like, 'Let's have Evil fight Good. You bring me your best man, I'll give you our best man, let's duke it out and see who wins.' On the good side, they're like, 'I'm just gonna send you a schmoe, because we're so confident in Good that even a schmoe can take you guys out.' So that's why Ash is essentially the Chosen One, he has no skills, zero skills, he's not Navy SEAL or former FBI.
---
Legends of Tomorrow
Actor Nick Zano posted the first photo of Keiynan Lonsdale on the set of Legends of Tomorrow to Instagram.
---
Untitled Star Wars Animated Series
Looks like the follow-up to Star Wars Rebels is moving right along. Lucasfilm Animation has announced on LinkedIn they're looking for an Episodic Director to spearhead a new animated series.
The Episodic Director's main role is to work closely with all levels of creative production in tandem with the Supervising Director, in order to bring the script to life on our animated television series. The ideal candidate is expected to balance managing all the various aspects of production, while successfully maintaining the highest quality of technical and creative storytelling possible for their respective episodes.
---
Game of Thrones
Speaking with Metro, Maisie Williams revealed the show is aiming for an April premiere when it returns in 2019.
We wrap in December and we air our first episode in April [2019]. That's a four-month turnaround for these huge episodes. There's a lot that goes into the final edit. You would not want to rush this season at all. We owe it to our audience and our fans to really do this final season to the best of our abilities.
---
Muppet Babies
Disney Junior has revealed the latest addition to their reboot of Jim Henson's Muppet Babies, a character named Summer Penguin.
---
Black Lightning
The cast discusses chemistry in a new featurette from the CW.
---
Happy!
Finally, Happy interrogates a living sock in a sneak peek from the season finale.
---
Banner art by Jim Cooke.