James Cameron hints at brand new worlds for Avatar 2, John Cho talks Khan in Star Trek 2, and there are hints about Spider-Man 1.5. Two beloved Lost characters film a scene together. Plus Jonah Hex, Hobbit and Supernatural spoilers.
Is AI Moving Too Fast? | Future Tech

Avatar 2:
James Cameron's already mentioned this movie's sequels could explore the other moons, but now he's suggesting he could go further afield:
There's more to the Alpha Centauri system than just Pandora. There are other moons that are boats for life. And there are stories that eventually spread out into other parts of the solar system.
Star Trek 2:
So this film has a June 2012 release date, but does it have a story yet? John Cho says he believes that writers Roberto Orci, Alex Kurtzman and Damon Lindelof have nailed down "a concept or an idea" during "a big meeting." But he hasn't heard any details. Cho's preference is for Khan to show up in the sequel, which would be "badass." [IGN]
G/O Media may get a commission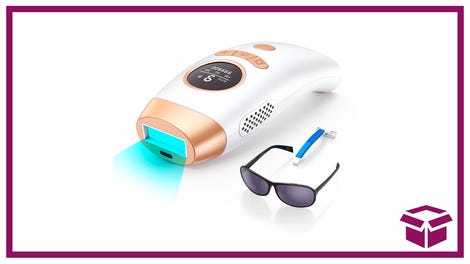 58% Off + Coupon
IPL Hair Removal Device
Spider-Man reboot:
So we already mentioned that the new Spider-Man movie will be a reboot, focusing on Peter Parker as a high-schooler. According to EW, this script, already written as a contingency, will be a "gritty, contemporary" take on Peter Parker as a teenager in today's world, dealing with real-life issues. (Maybe Flash Thompson does crystal meth.) In keeping with this youth-oriented goal, possible directors include Marc Webb ((500) Days Of Summer), Gary Ross (Seabiscuit), or (shudder) Michael Bay. [EW]
Jonah Hex:
Will Arnett explains his role in this movie:
I play a guy who's in the Union army right after the Civil War. I enlist Jonah Hex, played by Josh Brolin, to do our bidding for us and to track down John Malkovich. [Jonah Hex] is a very kind of heavy movie. It's dark and actioney... [A] real fun, dark, sweaty movie.
The Hobbit:
James McAvoy has "squashed" rumors he'll be playing Bilbo Baggins. Squashed them, as with hairy Hobbit feet. [MTV]
Lost:
So apparently the reports about Charlie getting arrested for drug possession after flight 815 lands safely are true. People witnessed the filming of a scene at the "Airport Courthouse" where Charlie is released with a bag full of his personal items. He's released into the custody of Desmond, but Charlie ignores Desmond and wanders into traffic, oblivious to the cars swerving around him. Desmond looks at his watch while he waits for the traffic to clear, then goes after Charlie. Eventually, they both get across the street and go to a place called "Jax." [Hawaii Weblog]


And here's another pic of that same scene. It was almost as if Charlie was in a hypnotic trance. [SpoilersLost]


Some new promo pics showcase Ilana, who's reportedly Jacob's daughter. [DocArzt]


Also, the Polar Bear cages are back, having just been re-created for upcoming filming. Reportedly, Sawyer returns to the other island to revisit the scene of his fish-biscuit humiliation at some point. [SpoilersLost]
We mentioned yesterday an anonymous source claiming that some of the Losties are assigned numbers on a big list that Flocke shows to Sawyer — here's the complete list of people's numbers that this anonymous source shared:
Locke 4
Hurley 8
Sawyer 15
Sayid 16
Jack 23
Kwon 42 (either Sun or Jin)
Supernatural:
Looks like Dean is not changing his sleazy ways, judging from some set pics from episode 5x13. [SpoilerTV]


Chuck:
The show just keeps getting better and better, says Yvonne Strahovski, and something happens in episodes six through 10 that fans would love to see. The "tension" of the love triangle increases. [EW]
Smallville:
Episode 9x17 is called "Checkmate," and speculation is it'll involve Amanda Waller's covert organization, the Suicide Squad, and its rival spy organization Checkmate. Also, episode 9x18, which sees the return of Brian Austin Green as Metallo, is called "Upgrade." [KryptonSite]
Heroes:
Doesn't sound like the season ender gives the show any kind of closure, and it has a bit of a cliffhanger, says Jack Coleman. But it sounds like it's possibly the end for Samuel the Carny. And there will be more bloodshed coming up. Also, James Kyson Lee hints that next season could see the "next generation" of heroes turn up, while the original characters come back older. [EW]
Additional reporting by Josh C. Snyder