It's fun getting caught up in the hype of cutting-edge gadgets and the excitement of new releases, but don't you sometimes feel like demanding that the good old days of analog and Lo-fi come back around? Sure, there is always some killjoy reminding you of what a hassle LPs and rotary phones actually were, but sometimes nostalgia breeds quirky and unexpected improvements, a la what Hipstamatic did for everyone's Facebook photos.
Fortunately, despite countless modern updates and upgrades, certain elements of old school technology refuse to go away. Welcome to Back by Popular DEWmand, a new series in which we take a look at some nifty modern innovations that bring back the best features of outmoded gadgets—inspired by Mountain Dew.
Picture This
Even something as innocuous as a simple picture frame isn't immune to the upgrade treatment. Yep, consider your hokey family snap shots officially "brought back" with the FrameWizard digital picture frame. Not only does the 8'' frame store and display your photos, but using special software, it actually animates them too. [FrameWizard is available at FrameWizard.com—$199.]

G/O Media may get a commission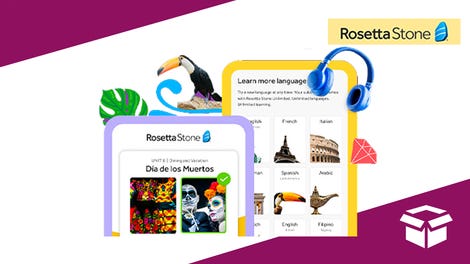 Extra 20% off
Rosetta Stone Lifetime Subscription - All Languages
Chill, Baby, Chill
Want your kitchen to give off a fresh-baked cookies at Mom's house, vintage vibe without the hassle associated with old appliances? Big Chill offers stoves, fridges and dishwashers in an array of candy colors that look like something out of June Cleaver's kitchen but don't make you want to Silvia Plath yourself, because they function just like their more modern-looking equivalents. [Various appliances are available at BigChillFridge.com—starting at $1795.]
Dial S For Smartphones
Most kids these days probably don't realize that when they tell someone to dial a number, that's cause phones actually used to, you know, have dials. The Rotary Dialer App gives your smart phone a twee, old-timey feel, but doesn't get in the way of all your tweetin' and tumblin' and whatnot. [The Rotary Dial App is available at the iTunes store—$0.99]
Well, that's it for Back by Popular DEWmand, you can bring back the awesomeness of previous posts here, and here. And don't forget to head here for more info on Pitch Black and Supernova, the legendary flavors that Mountain Dew has finally brought back due to popular DEWmand!