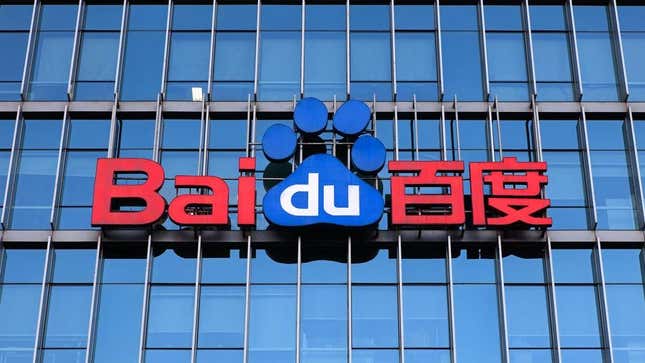 Chinese-owned internet company Baidu Inc. is reportedly launching a ChatGPT-style bot in March to merge with the company's search engine eventually, an unnamed source familiar with the matter told the Wall Street Journal.
No Google AI Search, I Don't Need to Learn About the "Benefits of Slavery"
Baidu, known as China's version of Google, reportedly plans to incorporate artificial intelligence into its online search engine, making it one of the few tech companies worldwide to implement the technology.
The news comes following a years-long effort by Baidu to research AI technology costing billions of dollars in the process. The internet company's latest bot will be based on its Ernie system, a large-scale machine learning model that Baidu has trained over several years to take in data, and will be the foundation for the new tool, the Wall Street Journal reported.
Baidu did not immediately respond to Gizmodo's request for comment.
Baidu is rolling out its AI-powered chatbot as the state continues to censor the internet and block access to ChatGPT, a system that can generate text based on a prompt for things like emails, scientific essays, school papers, poetry, malware coding, and answer questions. However, Baidu will limit the Chatbot's accessibility to align with China's censorship rules and will restrict its outputs to avoid hate speech and topics considered to be politically sensitive, the source told the Wall Street Journal.
The debate over AI-based systems like ChatGPT has spread to schools that have banned the use of ChatGPT in several countries including the U.S., France, and India as teachers cite concerns that the AI technology will provide students with the opportunity to plagiarize essays, Yahoo! Finance reported. It's also received criticism for its potential to take over jobs and its potential to release biased or inaccurate information.
A top university in France, Sciences Po, sent an email to staff and students on Friday, writing, "Without transparent referencing, students are forbidden to use the software for the production of any written work or presentations, except for specific course purposes, with the supervision of a course leader," Reuters reported.
Despite its shortcomings, the U.S. government and Beijing are competing for leadership in introducing ChatGPT-style technology to emerging technologies. China has yet to release the name of its new ChatGPT-style bot but will reportedly supply users with search results similar to OpenAI's platform.
Baidu's chief executive, Robin Li, told employees last month that the new technology represents new opportunities for the company, according to a transcript the Wall Street Journal reported. "We have such cool technology, but can we turn it into a product that everyone needs?" Li said, adding, "This is actually the hardest step, but also the greatest and most influential."