Karl Urban is unsure about the future of the Star Trek movies. Kevin Feige discusses bringing the style of Thor: Ragnarok to the Avengers movies. Another familiar face is coming back for X-Files. Plus, teeny new snippets of Justice League footage, and tons of new pictures from the big CW/DC crossover. Spoilers now!

Beetlejuice 2
Deadline reports Mike Vukadinovich has been tapped to write a completely new screenplay for the long-discussed sequel to Beetlejuice with Seth Grahame-Smith and David Katzenberg producing. Negotiations with Tim Burton and Michael Keaton are still ongoing, but the duo is reportedly "excited at the thought of collaborating on a sequel."
---
Star Trek 4
Karl Urban remains uncertain on wether we'll even seen another Star Trek movie set in the Kelvin Timeline.
You know as much as I do, my friend. [laughs] Listen, we'd all love to make another Star Trek movie. That's absolutely certain. But if we don't get that opportunity then I'm really happy to have ended on such a good note. We had such a wonderful time shooting Star Trek Beyond. It was an amazing experience — and we're all still grieving over the fact that it was the last time that we got to shoot with Anton [Yelchin]. We're all like a family. It won't be the same without him.
G/O Media may get a commission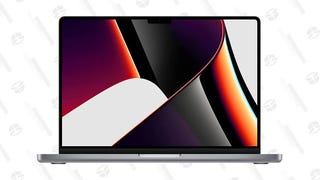 Save $300
2021 14" 1TB MacBook Pro
---
Halloween
John Carpenter has confirmed to Billboard he will be writing the score for the next Halloween.
I am an executive producer and it looks clear to me that I've made a deal to do the music…There are many options. I'll be consulting with the director to see what he feels. I could create a new score, we could update the old score and amplify it, or we could combine those two things. I'll have to see the movie to see what it requires.
---
Green Valley
Film Buff Online reports an adaptation of Max Landis' comic book, Green Valley, is in development at Robert Kirkman's Skybound Entertainment. Naturally, Landis is slated to write the script.
---
Freddy vs Jason vs Ash
Bruce Campbell confirmed the fate of the long-rumored crossover film during a panel at New York Comic Con.
We had a five minute conversation with New Line Cinema about Ash vs. Jason vs. Freddy. They approached us. So they go, 'What do you think about that?' And we were like, 'Great, Ash can kill 'em both.' There was a long pause, 'Well actually that's not something we can entertain.' And we couldn't control any other character, only control Ash – what these guys said, or what they did and you can't kill either one. So right from the start, it's creatively bankrupt. Economically, now you're splitting the pot with two other partners – nah. We're good. So that's why – fans may not realize why things don't happen.
---
Thor: Ragnarok
Screen Rant asked Kevin Feige to elaborate on his earlier comments about Thor: Ragnarok kicking off a loose trilogy for the Hulk.

Anything's possible. It is something when we were talking to Mark about this movie and trying to get him excited and getting him to agree to be in this movie, I did pitch to him a potential, sort of three movie arc for the character starting with this and that is what we ended up doing. Now, I won't say where it goes, but it's the continuing evolution of the relationship between Banner and Hulk and you see a side of it here. There's a great line. He [Banner] says, "it's different this time, usually it feels like we both have a hand on the wheel, but this time he was driving and I was locked in the trunk." Are they ever going to be able to resolve that?
Feige also revealed the upcoming Avengers films will lean heavily into the Jack Kirby aesthetics of Ragnarok.
Well, we'll see. I would love, love, love to work with Taika again and I have every confidence that we will. What we're working on right now is the next six movies. The next six movies that will bring us to Untitled Avengers in May 2019, which carries off a lot of what you see in this movie. In some cases very directly, and continues to build and grow. The notion of the Jack Kirby elements. Walt Simonson has always been an influence on the Thor series for us, obviously, he's done such amazing work in Thor. Jack Kirby has been an influence on every Marvel movie we've ever made because he built the Marvel Universe with Stan, Steve Ditko, and the whole gang there, but this movie, and coincidentally being the 100th year anniversary of Jack Kirby's birth, we really wanted to be that unabashed love letter, and a film by Taika, when talking to the art department, and saying, "oh look at that, it really should be like this", looking at Jack Kirby costumes and background panels, and the art department doing something inspired by it and then Taika going no, no. Do this! [referencing exact Kirby art] And that's why you have, it's direct to translation of Kirby's artwork which hasn't been seen in a movie before.
Meanwhile, Thor learns a hard lesson in the latest TV spot.

---
Justice League
AT&T has a spotlight on Aquaman, including some new footage of Atlantis, Mera, and his meeting with Batman.
---
The X-Files
Robert Patrick is in talks to return as the Agent John Doggett. Speaking to TV Line, Chris Carter stated:
I actually wrote him into an episode. But then I found out he wasn't going to be available to us [because of Scorpion] so I had to write him out of the episode… Scorpion is his first priority. That's not to say you won't see him this season…
---
Black Lightning
Edwina Findley will recur as Tori, the sister of main villain Tobias Whale. She's described as as "just as deadly as Tobias" and "an exciting threat to the people of Freeland."
[Deadline]
---
Untitled ABC Supernatural Comedy
ABC is developing a single-camera supernatural comedy from the creators of The Real O'Neals about a woman who discovers "something extraordinary about herself" once she reaches her "tipping point."
[Deadline]
---
Supergirl
Chad Lowe guest-stars in the synopsis for episode four of season three, "The Faithful".
Kara (Melissa Benoist) investigates a secretive new group whose leader, Thomas Coville (guest star Chad Lowe), has a mysterious connection to Supergirl. Meanwhile, Samantha (Odette Annable) feels like she's letting Ruby (guest star Emma Tremblay) down, and J'onn (David Harewood) confesses an old secret.
---
The Flash
The Elongated Man debuts in the synopsis for episode four of the new season, "Elongated Journey Into Night."
Cisco (Carlos Valdes) is shocked when Gypsy's (guest star Jessica Camacho) father, Breacher (guest star Danny Trejo), shows up on Earth-1. Breacher takes an immediate disliking to Cisco and decides to hunt him. Meanwhile, Barry (Grant Gustin) runs into his old nemesis, Ralph Dibny (guest star Hartley Sawyer).
---
Legends of Tomorrow
The Legends travel to 1988 to save the Atom's life in the synopsis for, you guessed it, episode four of its own third season, "Phone Home."
The Legends learn that Ray Palmer (Brandon Routh) will die because they broke time, causing them to race back to 1988 to try and save his life. When they arrive, they are surprised to learn that young Ray Palmer has befriended a time-displaced baby Dominator putting him in harm's way with the government and the Dominator's mother. New to the ship and missions, Zari (Tala Ashe) must find her place and learn to trust the team. Meanwhile, Stein (Victor Garber) begins working on a secret project on the ship which makes Rory (Dominic Purcell) and Jax (Franz Drameh) suspicious.
---
Crisis on Earth-X
Finally, a ton of set photos from the big CW/DC crossover have cropped up all over the web, including more looks at what is presumably Barry and Iris' first attempt at a wedding in the crossover, and their eventual smaller ceremony... where they're seemingly joined (or upstaged?) by Oliver and Felicity tying the knot.


---
Banner art by Jim Cooke.