Before 1948, there was something funny about the Southland's electricity. Plug in a clock from New York and it would lose 10 minutes every hour. Spin a record on a turntable from San Francisco and it would sound deep and drowsy. Some gadgets wouldn't work at all.
The problem? Southern California's power grid ran on a different frequency. Like the rest of the U.S., the region was wired for 120 volts, but its alternating current pulsed out of power plants and into electrical sockets at a slower rate—50 cycles per second (or 50hz) versus than the national 60hz standard.
That standard had not yet emerged in 1893, when the Southland became home to the nation's first three-phase, alternating current hydroelectric plant: the Mill Creek plant outside Redlands, California. As General Electric workers were installing the generator, it was left to the supervising engineer on site, Louis Bell, to determine the frequency. GE's rival, Westinghouse, was then designing equipment to operate at 60hz. Bell could have followed suit, but instead he chose the 50hz favored by his company's European affiliate, AEG.
With his decision, Bell unwittingly locked Southern California into a 50hz frequency. General Electric switched to 60hz just one year later, and as three-phase AC power came to more regions, the nation's power grid began to pulse in harmony. As an early adopter, however, Southern California was left behind. With so much equipment built for compatibility with Mill Creek's 50hz, switching to the emerging 60hz standard was simply cost-prohibitive. (Incidentally, the Mill Creek plant and its peculiar legacy was a product of the region's "Orange Empire," built to power an ice factory and keep the region's prized citrus crop fresh for market.)
For decades, then, the Southland was a sort of electrical enclave. Though its borders were unmarked in official atlases, crossing those invisible lines had very real consequences for manufacturers and consumers alike. Some electrical appliances worked at both frequencies, but for frequency-sensitive products manufacturers created special 50hz models just for the Southern California market. And when newcomers moved from outside the region, they paid to have their old devices converted, or simply bought new ones that would work on the 50hz grid.
G/O Media may get a commission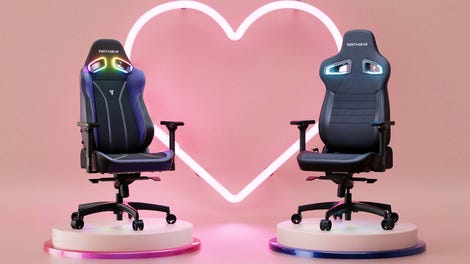 Up to $150 off
Vertagear Gaming Chairs
In 1945, Southern California Edison—the region's largest electric utility—finally decided to harmonize its grid with the rest of the nation's. Consumers were buying too many frequency-sensitive appliances, industrial customers were having trouble finding 50hz equipment for their factories, and the Los Angeles Bureau of Power and Light had already converted in 1936 in order to accept accept power from Boulder (Hoover) Dam's 60hz generators.
Conversion, alas, wasn't as simple as flipping a switch. Edison rolled out the new 60hz alternating-current frequency to its 765,000 customers in nine stages over three years, taking care that its supply of the two frequencies always matched the demand. It retrofitted its transmission equipment. And it set up "clock exchange depots" across the region where customers could bring their old 50hz appliances for free adjustments and exchanges. (The final tally: 475,000 clocks, 380,000 lighting fixtures, and 58,000 refrigerators.) All told, the conversion from 50 to 60hz cost Southern California Edison $34.4 million—more than a third of its annual gross revenue—but on October 27, 1948, the Southland finally pulsed in unison with the rest of the U.S.
Top image courtesy of the USC Libraries – Dick Whittington Photography Collection.
---
Southland is made possible by a partnership among Gizmodo, the USC Libraries, and the member collections of L.A. as Subject. Written by Nathan Masters, the series explores the urban past of Los Angeles, including the lost landscapes and forgotten infrastructures that continue to influence the city we know today.