Sad that the Hunger Games movie adaptation won't be presenting in Hall H at comic con? Don't fret! We've culled a ton of excellent Hunger Games info, to feed your need for teenage slaughter. Including a look at Katniss' hometown.
According to the avid Hunger Games location twitterer and WMYA news anchor Russ Bowen (who's located in Asheville, NC which is where the Hunger Games crew has been rumored to be shooting) has twittered a few set pics of what appear to be the Seam, and the Mellark family's bakery (going on the dilapidated structures and the fact that there's a bakery, which is the home of one Peeta Mellark).
G/O Media may get a commission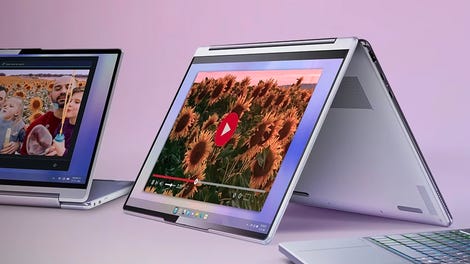 up to 70% off
Lenovo Spring Clearance
Could this be the house of Katniss Everdeen?
And another house, could this be the home of Gale Hawthorne perhaps? Who knows, they could just be background homes as well. We won't know for a while yet. However, we love the deteriorated look of the buildings (even the bakery looks like it may have seen better days).
In other Hunger Games news, it was announced that T Bone Burnett and Danny Elfman would be teaming up to score this film. Which is truly good news all around.
Here's a bit from the press release:
THE HUNGER GAMES SCORES T BONE BURNETT AND DANNY ELFMAN

Santa Monica, CA, June 28, 2011–LIONSGATE® (NYSE: LGF), a leading global entertainment company, today announced an unprecedented film music collaboration between Academy Award® winner and two time nominee T Bone Burnett (CRAZY HEART, COLD MOUNTAIN) and four time Academy Award® nominated composer Danny Elfman (ALICE IN WONDERLAND, SPIDER-MAN) on the music for the highly anticipated film adaptation of THE HUNGER GAMES, based on the first in Suzanne Collins's runaway bestselling book trilogy. The announcement was made by Lionsgate's Motion Picture Group President Joe Drake.

Elfman and Burnett will be collaborating on the film score, with Burnett also serving as the film's Executive Music Producer, producing songs for the film and soundtrack.

Said Lionsgate's Head of Film Music Tracy McKnight of the musical dream team assembled on behalf of the film, "THE HUNGER GAMES is such a special property – it has worldwide mass appeal, but it's also sophisticated, cerebral, soulful, and rebellious. We needed a composer who can translate these qualities musically, and we have not one but two incredible artists in an absolutely thrilling first time ever collaboration."
And finally, just because Lionsgate announced that they won't have a Hall H panel for Hunger Games at Comic Con, that doesn't mean they won't be pimping the facebook page and a few contests on the floor. In fact the facebook page has a pretty fantastic gallery, showing each teen actor labeled according to which Tribute they'll be playing. We quite like Foxface.
So keep your eyes peeled for Hunger Games viral marketing at SDCC. And cosplayers, I want to see a Katniss and a Peeta on the floor — preferably in the presentation attire made of synthetic fire (you can use cardboard). Until then, may the odds be ever in your favor!