Doctor Strange normally isn't the kind of hero who spends his time taking on lowly muggers on the city streets. But apparently Benedict Cumberbatch, who plays the magician, is.
As reported by Entertainment Weekly, Benedict Cumberbatch, riding in an Uber in London, saw something upsetting on the side of a road: a cyclist, being beaten by several assailants. So Cumberbatch did the best thing he could possibly do: he stopped the Uber. And he chased down the muggers.
And they ran away.
"The cyclist was lucky, Benedict's a superhero," said Manuel Dias, the Uber driver, according to EW. "Benedict was courageous, brave and selfless. If he hadn't stepped in the cyclist could have been seriously injured." Dias said that Cumberbatch ran up to the muggers and, shouting "leave him alone," tried to pull them away until they fled.
According to the police report—which keeps all the names involved anonymous—the men were attempting to steal the victim's cyclist, but ended up fleeing the scene without taking anything.
I'm not sure what's more wild: being mugged, being saved, and then finding out your hero is Benedict Cumberbatch, or being the muggers who find themselves foiled by the rich, deep voice of Benedict Cumberbatch.
G/O Media may get a commission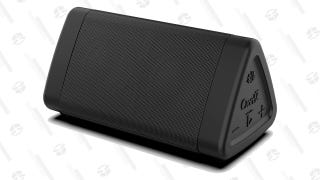 Save 31%
Oontz Angle 3 Portable Bluetooth Speaker
What a hero.