Director Guillermo del Toro takes us inside the Pacific Rim trailer. Peter Jackson reveals his plans for the Adventures of Tintin sequel. Johnny Depp's Transcendence is close to finding its second computer genius. Plus Tron 3 is really, definitely happening!
Spoilers from here on out!
Top image from Pacific Rim.
Star Trek Into Darkness
For what it's worth, Benedict Cumberbatch just revealed the identity of his villain — and he's saying it's John Harrison, the name revealed in a recent official caption and one that quite decidedly isn't Khan, Gary Mitchell, or anyone else who has previously appeared in the Star Trek universe... which, now that I think about it, should be exactly what we all want, but somehow all the uber-secrecy has flipped my brain. Anyway, here's what Cumberbatch has to say about the good Mr. Harrison:
"I play John Harrison who's a terrorist and an extraordinary character in his own right. He's somebody who is not your two-dimensional cookie cutter villain. He's got an extraordinary purpose, and I hope that at one point or other in the film you might even sympathize with the reasons he's doing what he's doing — not necessarily the means and the destruction he causes. But it was a great ride, not just because he's the bad guy and the antagonist but also because he has a purpose and it's hard not to see his point of view at certain points."
---
The Wolverine
G/O Media may get a commission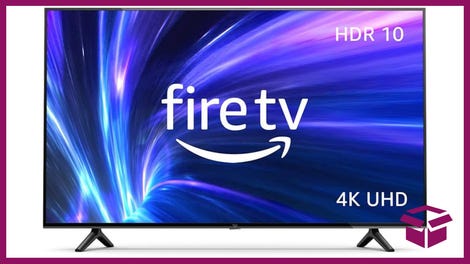 42% Off
Amazon Fire TV 50" 4K Smart TV
Here's a new poster for Hugh Jackman's latest foray as Wolverine. Check out the link for an animated version of the poster. [Coming Soon]
---
Pacific Rim
Director Guillermo del Toro has offered some commentary and explanation for the recently released trailer, including just why two pilots are required for the Jaeger robots:
"The pilots wear suits that are neurally linking them. They have a spinal clamp that links their spines. They have relay gel in their helmets that transmit their impulses to one another. They move in synchronicity. One is handling the neural network of the left side of the Jaeger, and the other is handling the neural network of the right side of the Jaeger. They are connected between them."
He also reveals that the attack on San Francisco glimpsed in the trailer is the initial Kaiju strike in the movie's universe:
"It's the very first attack, ever. I wanted very much to show the scale. The whole movie is about scale. Literally, there are set pieces that are impossibly big. I wanted very much to have this image to show you what the tip of a nail of a Kaiju looks like."
Check out the link for more. [MTV]
---
The Hobbit: An Unexpected Journey
Here's one last sneak peek clip.

---
The Adventures of Tintin 2
It's Peter Jackson's turn to handle directing duties for a Tintin movie, and he reportedly told the Belgian media that his plan is to shoot the performance capture aspects of the film sometime in 2013 with an eye towards a 2015 release. This would mean Jackson would need to take a break from post-production work on the final two Hobbit movies, but fellow Tintin director Steven Spielberg has previously intimated that Jackson shouldn't need more than a month to complete filming for the sequel, so that should be surprisingly doable. [Bleeding Cool]
---
Tron 3
Star Garrett Hedlund confirms he will be back as Sam Flynn for Joseph Kosinski's Tron Legacy followup, for which Eragon screenwriter Jesse Wigutow is currently working on the script:
"Yeah. Are we gonna break this now? Disney's very excited. That's about that. You know, yeah, I'm very excited, Disney's very excited."
---
Transcendence
Johnny Depp is already reportedly set to be one of three computer geniuses in this upcoming sci-fi film from Christopher Nolan's longtime cinematographer Wally Pfister. Depp's mind is uploaded into a computer after his death, and the scientist behind this particular upload is named Evelyn, with three leading candidates to play her: Looper star Emily Blunt, The Girl with the Dragon Tattoo's Rooney Mara, and The Town's Rebecca Hall. The decision will reportedly be made sometime later today. [Deadline]
---
Fringe
Here's a trio of sneak peeks for tonight's episode, "Black Blotter."

---
The Walking Dead
Here are the (possibly unofficial) titles and synopses for the first three episodes of the second half of the season, which kicks off in 2013:
Episode 9 - The Suicide King
Rick tries to rescue one of his group members. Woodbury is in disarray after a recent attack. New guests staying in the prison are a cause for concern.

Episode 10 - Home
The group is preparing their next step. Rick goes in search of his lost friend and meanwhile, Daryl and Merle are wondering if they themselves made the right decisions. The governor of Woodbury tries to restore order in the town and is planning to punish the people responsible for the chaos.

Episode 11 - I Ain't A Judas
Rick and the group are forced to make a decision now that their safety is no longer guaranteed. Andrea feels uncomfortable now that Woodbury has become a police state.
---
Person of Interest
The fifteenth episode is reportedly called "Turndown Service." [SpoilerTV]
---
Once Upon a Time
Here's a promo for the tenth episode, "The Cricket Game", which kicks off the second half of the season on January 6.

---
Arrow
Here's a promo for the show's January premiere, "Burned."

---
The Vampire Diaries
Costar Joseph Morgan discusses what's ahead for Klaus and Rebekah:
"Obviously, she is not going to be happy with Klaus! To a certain extent, part of Klaus wishes she could be the bloodthirsty, fabulous vampire that he wants her to be, but she's so desperate for love that she comes across as weak to him. And she's been used against him as one of his weaknesses. We'll see that dynamic become more and more complicated - as sibling relationships are."
[TV Line]
---
American Horror Story: Asylum
Here's a promo for the next episode and tenth overall, "The Name Game", which airs January 2.

---
Additional reporting by Rob H. Dawson and Charlie Jane Anders.