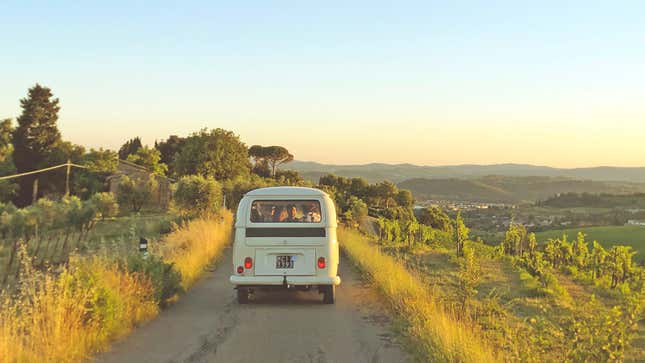 If you've got a road trip planned this summer, you've no doubt got Apple Maps or Google Maps ready and waiting to get you from place to place, as well as a music, podcast, or audiobook app to provide audio accompaniment for the journey. However, there are plenty more apps out there that can make your traveling a whole lot more interesting and enjoyable.
No Google AI Search, I Don't Need to Learn About the "Benefits of Slavery"
Whether it's guiding you towards the best spots for hiking or talking you through the history of the city you're passing through, there's a wide swath of choices here. We're going to concentrate mainly on US-focused apps here, but some of them work internationally—and you might find alternative equivalents in your part of the world.
---
1) Roadtrippers
We're going to include a single road trip planning app here, and our pick is Roadtrippers: It's straightforward to use, it's packed with helpful features, and it makes it easy for multiple people to chime in on whereabouts you go next. Even if you've already set off on your road trip or done most of the planning for it, Roadtrippers can still come in useful.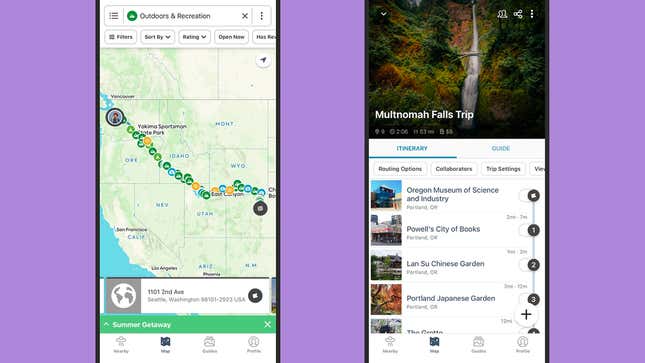 The app will recommend places of significance and interest to visit en route to your final destination, and provides more comprehensive travel guides to specific places as well. If you need to share your progress with friends and family as you go then that's covered too, and the app even works offline if you're heading to remote spots without cell coverage.

---
2) National Park Service
Make sure you make the most of what the National Parks in the US have to offer by installing the agency's official app: You get up to date information on everything that's available in all 424 parks, from visitor center opening times to accessibility information, as well as interactive maps you can use to plot your adventures through these wonders of nature.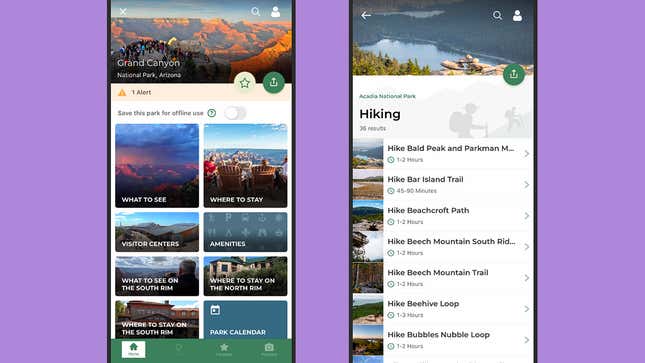 If you're unfamiliar with a park you're heading to, you can use the app to discover all the must-see sights—it's a bit like having an actual tour guide going along with you, and there are plenty of informative audio narrations included too. In some cases you can even log into live webcam feeds to see how conditions are or how busy a place is before you visit.

---
3) Roadside America
If there's a bizarre or offbeat attraction to see somewhere along your travel route, then Roadside America will let you know about it, and it can turn a humdrum road trip into an entertaining and diverting one very quickly. There are a vast number of attractions to check out here, split into more than 70 themes, including music, tech, and more.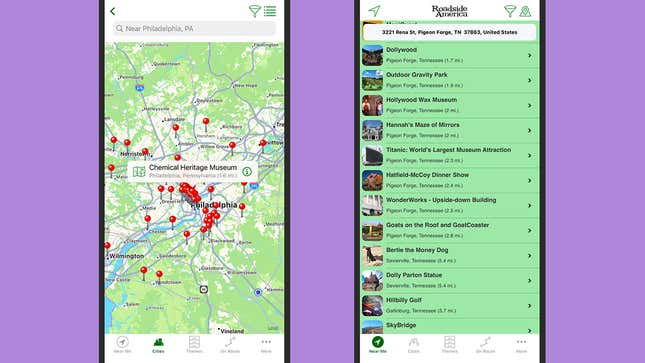 From museums of the strange to celebrity graves, from weird and wonderful architecture to unusual statues, you're unlikely to run out of sights to see with this app installed. You can easily check what's coming up ahead based on your itinerary, and each attraction comes with photos, descriptions, and reviews from users who've previously stopped by.

---
4) Seek
Assuming that you are, at some point, going to get out of your car and take a look around, Seek can help you easily identify the animals and plants that you come across on your travels. Point your phone camera at something living (or a photo of something living), and you should get back a host of details about what it is and what you need to know about it. Google Lens has a similar feature, but this is a more powerful, sleeker version.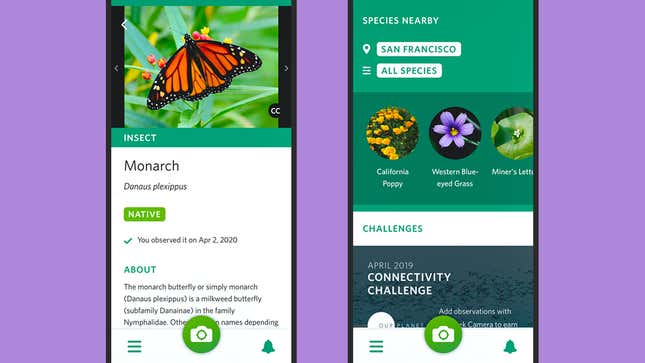 From birds to mushrooms to flowers to insects, Seek is impressively comprehensive in what it's able to identify, and you can earn badges inside the app as you tag more wildlife. It's particularly great for keeping the kids entertained (and educated), and can come in handy whether you're stopping for 30 minutes or three days as part of your road trip.
---
5) Autio
Billing itself as a "location based story guide", Autio is similar to those audio tours you might get in museums or art galleries: It basically talks you around some of the most popular travel spots in the US, offering tales from more than 10,000 locations. New content is pushed out regularly, and you'll get pinged if you're close to a place that's covered.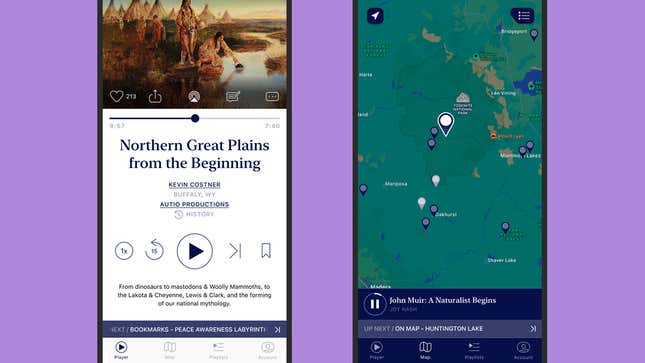 Actor Kevin Costner is one of the investors in the app, and you'll hear his voice on the narrations alongside others like John Lithgow and Phil Jackson. The audio clips are around 2-3 minutes in length, giving you the history and the significance of places as you drive through them, and pointing you towards sights you might not otherwise have seen.
---
6) Blinkist
We're expecting that you've got some music playlists and some favorite podcasts queued up for your road trip, but consider Blinkist as well. The app promises to present "big ideas in 15 minutes"—it's essentially a clever book summary app, cutting down lengthy (and worthy) tomes into chunks that you can read or listen to in a much shorter span of time.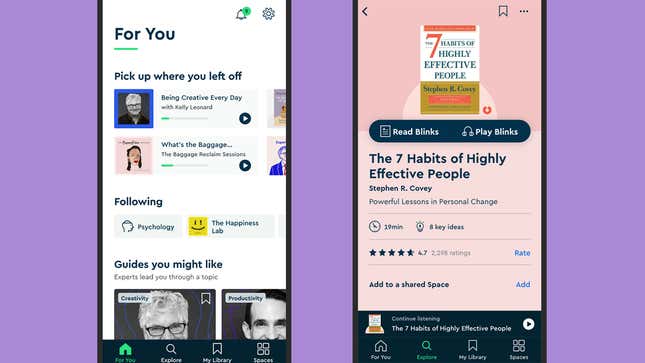 So for example, you might want to hear about how to get healthy, stay positive, or make the most of your mornings. There are thousands to pick from, with an emphasis on philosophy, entrepreneurship and self-help, and some of the most famous authors in the world are covered. Full audiobooks and ebooks are available through the app as well.
---
7) AllTrails
If you want to get out of the car and stretch your legs, then AllTrails is perfect, giving you up-to-date information on walking and hiking trails in the part of the US that you're in. All the trails come with star ratings left by other users, rankings in terms of how difficult they are to complete, and there are now more than 400,000 of them in the app.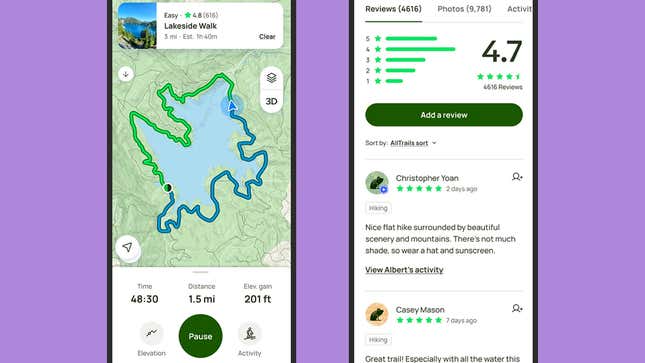 You can also sift through the trails based on their friendliness towards kids, pets, and wheelchairs, so you'll be able to find something suitable no matter who you're traveling with. Then, when you're actually out on a route, AllTrails lets you accurately track your progress, share your location with other people, and save a record of your adventures.