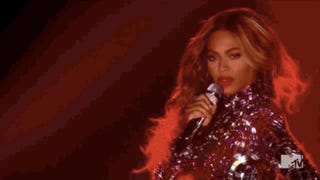 As a Friday treat to her mortal fans, Beyonce released two of the songs off her upcoming deluxe version of last year's Beyonce, which is coming out November 24. Both songs are good, but I can't resist Beyonce when she raps so I'm favoring "7/11."
Beyonce teamed up with Nicki Minaj for her Flawless remix and that brash, staccato style is present here. Nicki's not on this track but I hope they're best friends by now (Nicki could also help Bey work on her verses. This song is fun but she's mostly just announcing her dance moves, which is good for amateur choreographers... but not particularly imaginative.)
I like it when Beyonce raps about alcohol and clubbing because I am 10000000000000% sure she goes to bed promptly at 10 PM and subsists on lean protein and sparkling kale water, and I feel like I'm listening to her indulge in an activity fantasy life on these tracks.
---
Welcome to Soundtrack, what Gizmodo's staff are listening to every night.