It's hard to imagine an environment where instant and clear communication is more critical than in biodefense labs dealing with the most lethal pathogens on Earth. And yet, these facilities, which are few in number and rich in potential nightmares, often require researchers to tap on each other's shoulders and shout in order to be heard.
It is so difficult for scientists to talk to one another because they work in heavy, cumbersome, noisy suits designed to protect them. Air pumped into these suits hisses at up to 85 decibels, nearly the same noise level produced by a passenger train approaching a station. Also, wireless telecommunication signals don't move easily through facilities used for handling the worst infectious diseases because they have thick concrete walls, steel doors and special plumbing and ventilation designed to stop absolutely anything from entering or escaping.
Workers in the most highly secure of these labs are reduced to using pen and paper, whiteboards, special computer keyboards with one-inch keys to accommodate double-gloved fingers, walkie-talkies and phones held against the outside of their suits.
"Wearing the suit, behind the 14-inch concrete walls and eight-inch steel doors, I was really struck by how I could feel cut off and in my own world," says John McCall, director of information technology and telecommunications for Boston University's new National Emerging Infectious Diseases Laboratories (NEIDL). The facility has not yet begun operating as opponents challenge it in court.
Scientists at NEIDL will work on a wide array of microbes, from those that pose less of a threat to public health to those that cause the world's scariest infectious diseases. As a result, the lab is designated a biosafety level 4 (BSL4) facility, the highest bio-containment level. People here might handle deadly hemorrhagic fevers like Ebola and Marburg viruses as well as ancient reapers like smallpox.
G/O Media may get a commission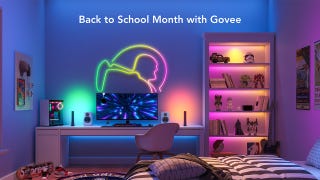 Back to School
Back to School Month with Govee Sale
Biosafety level 3 is scary, too, covering the virus that causes severe acute respiratory syndrome and other potentially epidemic-triggering biological agents. BSL1 and BSL2 facilities store the merely dangerous — E. coli, Chlamydia and the like.
Can you hear me now?
McCall volunteered for training in the same protocols used by disease-lab scientists to see how technology could help them do their jobs. It has given him insights that have resulted in an innovative, inexpensive communication system for these researchers.
His goal is to put researchers one tap away from anyone in the world they need to talk to. As a result, he has built a system that resembles the communicator badges that the crew of the Starship Enterprise tap to talk on Star Trek: The Next Generation. The system McCall has built out of off-the-shelf hardware and software involves:
Wireless access points
Voice over Internet Protocol telecommunications through Boston University's wireless infrastructure
A phone server to let the system connect to landlines
Acoustic air-tube earphones
Throat microphones
Boom mics for those not in protection suits
Two-button communicators
Voice-recognition software
NEIDL's communicator badge connects disease lab researchers to each other and the outside world through taps and voice commands. Courtesy John McCall/NEIDL.
Its core is built on Vocera hardware and software. The firm makes hospital and hospitality hands-free voice-communication products. NEIDL researchers will wear a Vocera lanyard "badge" hanging from their scrub shirt's pocket. The device's two buttons open a channel to one person or many other people, and signal to colleagues that they are busy.
The software understands and provides more than 100 voice commands and prompts, and flexibly routes communications. A researcher might tap the call button and say, "Call Dr. Hansen" or "Call Animal Care." Those being contacted get a prompt saying who is calling and asking if they want to take the call. They can pick up and end the call without touching their badges.
Significantly, a scientist could tap the button and say, "Emergency."
"That would automatically go to an internal phone line. We'd spin the lab cameras around on you, and we'd have people down there right away," McCall says.
NEIDL IT director John McCall demonstrates the hands-free communication system that includes an integrated earphone and microphones that pick up speech through the neck. Courtesy NEIDL.
A line to the outside world
NEIDL researchers can also use the badges to contact field staff outside the facility.
With the eight-badge, $33,000 communication system, researchers who see something alarming in a tissue sample will be able to use voice commands to convene an ad hoc conference of experts anywhere in the world, including "scientists collecting samples in a bat cave," he says.
Even communicating quickly and easily with other infectious-disease labs around the world will be a boon to research. Most labs have unique core competencies, and tapping into that knowledge will no longer mean waiting for the next symposium.
It's difficult to find systems offering flexible one-to-many workgroup communications on the market, says McCall. He says he has found similar software and hardware products, but they are not flexible enough to handle NEIDL's fluid environment, are too expensive or both.
McCall says his setup continues to evolve. Currently, there is one earphone for each badge, but some people have a difficult time getting information in just one ear. It's disconcerting for them, he says, so he is experimenting with Apple-style earbuds.
The throat mics, technically called laryngophones, also can be problematic for some. They are designed to pick up the sound a larynx makes by putting the device on shaved skin nearby. But they don't work as well on some people and particularly on men with thick or fast-growing beards. An air gap degrades the mic's ability to pick up vocal sounds.
"I'm looking at sonogram gel as a way of keeping air from between the mic and the skin," he says.
On the horizon, McCall hopes to incorporate a camera and projector in the suit's headgear to create a head-up display on the face screen that further connects researchers.
---
Txchnologist is a digital magazine presented by GE that explores the wider world of science, technology and innovation.
Subscribe to Txchnologist's daily email.
Top Image (left): John McCall, NEIDL's director of information technology and telecommunications, demonstrates the new communicator badge system while wearing the lab's full exclusion suit. Courtesy NEIDL.