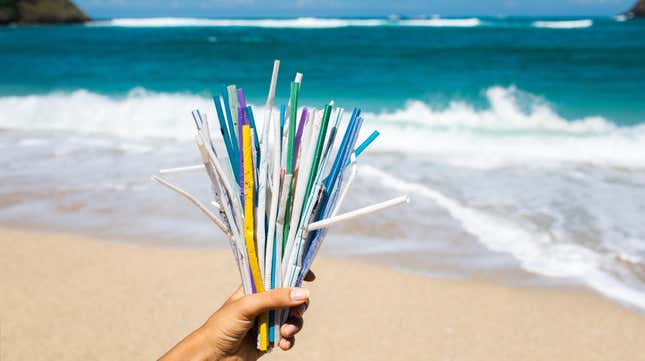 As the war on plastic straws rages on, researchers in Korea have created a bioplastic alternative that is made out of potato starch and citric acid. In a paper paper published in ACS Omega, the team says that these new straws are stronger than plastic and more durable than paper.
To create the straws, researchers led by Dickens O. Agumba from Inha Univeristy in Korea combined potato starch and lignin—a polymer found in the walls of plant cells—along with polyvinyl alcohol to form a slurry. Agumba and his colleagues then spread the slurry on a glass surface to dry before rolling it into a straw shape using a Teflon rod and curing it in an oven. The sheet was able to seal itself at the edges to form the straw.
Traditional plastic straws are just the tip of the iceberg of the world's burgeoning plastic problem; anything we can invent to ease ourselves off our addiction to plastic is, arguably, a good thing. Yet we all know the annoying feeling of a paper straw dissolving within five minutes of putting it into an iced coffee. Finding a way to create a straw less harmful to the environment that's not made out of oil and gas—and that doesn't go soggy—could be a real game-changer.
"The functionality of the straws and films surpassed paper and plastic straws, making them quintessential candidates for all-natural sustainable development," Agumba and his collaborators wrote in their paper.
In testing the bioplastic straws, the team found that they remained rigid in hot (95 degrees Celsius, or 203 degrees Fahrenheit) water for up to 24 hours. To test the biodegradability of the straws, Agumba and his collaborators left a starch straw and a traditional plastic straw in two different locations, on soil and in the branches of a tree, finding that while the traditional plastic straws remained unchanged after two months, the starch straws showed signs of decay.
G/O Media may get a commission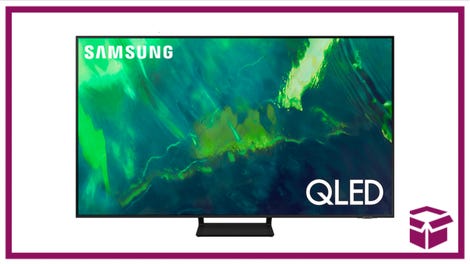 35% off
Samsung Q70A QLED 4K TV
Save big with this Samsung sale
If you're ready to drop some cash on a TV, now's a great time to do it. You can score the 75-inch Samsung Q70A QLED 4K TV for a whopping $800 off. That knocks the price down to $1,500 from $2,300, which is 35% off. This is a lot of TV for the money, and it also happens to be one of the best 4K TVs you can buy right now, according to Gizmodo.
Since the bioplastic was formed in a sheet, the researchers argue that this method allows for straws to be manufactured in different lengths and thickness, for different drinking applications. Lignin and potato starch, the team claims, are also cheaper than the cellulose other straws are made of, meaning these straws could be less expensive than other plastic alternatives on the market.
It's always exciting to see a new plastic alternative propping up. But just because something is labeled bioplastic doesn't mean it's environmentally friendly. Plastic is usually made with crude oil and natural gas, and the term "bioplastic" is just a vague descriptor of any plastic that is made with some percentage of bio-based material—even as little as 30%, in the case of Coca-Cola's plant-based bottles. There's no standardized measure for what bioplastic is, and some research points out that bioplastics contain just as much—if not more—toxic chemicals than traditional plastic. While the team's observations about the straws breaking down in nature look promising, it definitely requires further study, and it's important to understand that bio-based plastics aren't the cure here—many bioplastics need to be composted in an industrial facility in order to fully break down.