On a list of the best things to come out of the Marvel Cinematic Universe, Tom Hiddleston's portray of Loki has to be near the top. Over multiple movies, the adopted brother of Thor has wreaked havoc on Earth and Asgard but was sadly absent from Avengers: Age of Ultron. That wasn't always the case, though.
Hiddleston did shoot a scene for the sequel, but director Joss Whedon and producer Kevin Feige decided to cut it. Why? Well, the actor told explained to Digital Spy.
And here's the quote if you can't watch the video:
I was part of the dream sequence for the character of Thor. I shot for a day and enjoyed it very much, and then I received a phone call from Kevin Feige [who] said that in test screenings, audiences had overemphasized Loki's role. They thought that because I was in it, I was controlling Ultron, and it was actually imbalancing people's expectations so Joss and Kevin were like, 'Let's cut it because it's confusing people.'… It made sense to me when I saw that film.
That kind of makes sense. Obviously Ultron wasn't being controlled by Loki and you'd hope people would understand those sequences weren't actually happening. But Loki has been such a prominent presence in the Marvel Cinematic Universe, his appearance could definitely be a distraction. Especially since, at the end of the film, Thor kind of suggests a larger power has been behind all the previous events.
Either way, we haven't seen the last of Loki. We don't know exactly when we'll see him next, but after his surprising twist in Thor: The Dark World, Thor: Ragnarok seems like a good bet. That'll be out July 28, 2017, and directed by Taika Waititi.
G/O Media may get a commission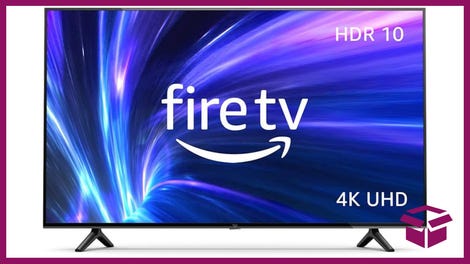 42% Off
Amazon Fire TV 50" 4K Smart TV
---
Contact the author at germain@io9.com.