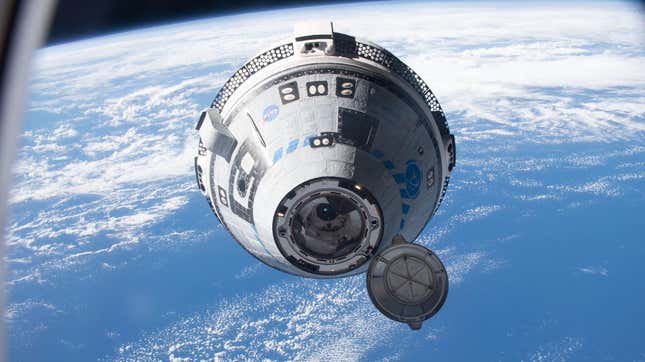 It's a sad story that just keeps getting sadder. Boeing's CST-100 Starliner program, in development for NASA since 2014, has now crossed a grim threshold, with total losses now in excess of $1 billion.

On Wednesday, the company announced further losses to the beleaguered program, as revealed in its second quarter 2023 financial earnings statement. The company has taken an additional $257 million hit, adding to the existing $883 million in charges against earnings attributed to previous problems dating back to December 2019.
Consequently, Boeing's total losses now amount to a staggering $1.14 billion for the Starliner program. The impact of these setbacks is evident in the company's Defense, Space, and Security division, which reported a significant loss of $527 million during the second quarter, with the Starliner project accounting for a substantial portion of this downturn, according to Ars Technica.
Adding insult to injury, there's still no indication as to when Starliner will perform its first flight with a crew on board.
Boeing, currently operating under a fixed-price contract with NASA, is obligated to absorb any additional costs. The company signed a $4.2 billion contract in 2014 as part of NASA's Commercial Crew Program, encompassing six operational Starliner missions. NASA also holds a parallel contract with SpaceX. Since 2020, SpaceX's Crew Dragon capsule has completed six crewed flights for NASA, with a seventh mission planned for this coming August and an eighth tentatively planned for February 2024. Boeing has yet to fly Starliner with a crew on board, though it did perform a reasonably successful uncrewed mission in May 2022.
In its latest financial earnings statement, Boeing said the Starliner program "recorded a $257 million loss primarily due to the impacts of the previously announced launch delay." The company initially aimed for a Crew Flight Test (CFT) launch on July 1, with NASA astronauts Sunita Williams and Barry "Butch" Wilmore destined for the International Space Station (ISS). However, Boeing announced an indefinite delay to the launch on June 1 due to the discovery of two major safety issues.
The first problem has to do with the load capacity of Starliner's three parachutes, designed to ensure a safe landing for the crew vehicle. The fabric sections of the parachutes have a failure load limit lower than anticipated, implying that if one parachute fails, the remaining two would be incapable of adequately decelerating the spacecraft for its landing in New Mexico. The second issue involves hundreds of feet of protective tape used to insulate the wiring harnesses inside the Starliner vehicle, which were found to be flammable. Mark Nappi, Boeing Starliner program manager and vice president, explained during the June briefing that it's too late to remove the flammable tape without inflicting further damage to the vehicle. Instead, Boeing and NASA are considering solutions involving additional wrapping over the existing tape in high-risk areas to mitigate fire hazards.
Boeing's Starliner program has a long history of setbacks. In 2019, Starliner was unable to reach its intended orbit due to a software automation glitch, while a launch attempt in 2021 was canceled on account of corroded valves in the capsule's propulsion system.
On Wednesday, Boeing President and CEO David Calhoun reaffirmed the company's commitment to the Starliner program. As quoted in Space Policy Online, he stated, "On Starliner, we are in lockstep with our customer. We prioritize safety and we're taking whatever time is required. We're confident in that team and committed to getting it right."
NASA has also shown its faith in Boeing, though it hasn't yet confirmed the next scheduled launch date. Steve Stich, NASA's program manager for Commercial Crew, said the space agency is "not really ready to talk about a launch opportunity yet," as he explained during a Tuesday press conference to discuss the upcoming SpaceX Crew-7 mission. "We're going to work the technical issues first, and then we'll sit down with the Boeing team when the time is right and pick a launch target."
I'm struggling to wrap my head around the $1.14 billion in losses and why both Boeing and NASA are moving ahead with the project. Part of me is like, cut your losses before it gets even worse. And it's not as if SpaceX hasn't already provided a reliable solution for ferrying astronauts to low Earth orbit. But NASA wants a second option, and this desire, plus Boeing's stubbornness to see the project through to its conclusion, is starting to reach astronomical heights in terms of cost.
For more spaceflight in your life, follow us on Twitter and bookmark Gizmodo's dedicated Spaceflight page.