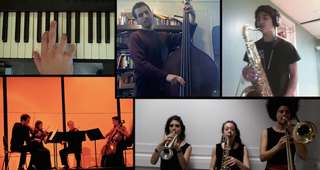 I don't know how mash up star Kutiman keeps making such kick ass music just using YouTube clips. And this new song No One In This World might be the best yet. The musical magician lifts random clips off YouTube and seamlessly blends them together into something so stunning, you'd think it was recorded in a professional studio.
But it's just a collection of various clips that have already existed on YouTube. This particular one is so soulful it almost hurts.
Kutiman's real name is Ophir Kutiel, "an Israeli musician, composer, producer and animator." His first album Thru You Too comes out October 1st.
---
This is part of a series in which we are featuring really cool music videoclips. If you are a musician or a director with high quality work, please drop me a line here.
---
SPLOID is a new blog about awesome stuff. Join us on Facebook