The British astronaut Tim Peake clearly likes a challenge. Not content with merely heading into space on December 15th, he's also agreed to run a marathon aboard the International Space Station.
It will be the first time any astronaut has run the distance while in space. He'll undertake the 26.2 miles at 10:00am GMT on April 24th, which is the same time as thousands of runners will embark on the London Marathon.
Unlike those competitors, though, he'll have to run the distance on a treadmill. To make the run (slightly) more realistic, he'll also watch an HD video of the course as he runs. He explained to Principia what he's expecting:
"One of the biggest challenges I'll be facing is the harness system. In microgravity I would float if I didn't strap myself down to the treadmill so I have to wear a harness system that's a bit similar to a rucksack. It has a waistbelt and shoulder straps. That has to provide quite a bit of downforce to get my body onto the treadmill so after about 40 minutes, that gets very uncomfortable. I don't think I'll be setting any personal bests. I've set myself a goal of anywhere between 3:30 to 4 hours."
Which is, frankly, faster than many of us could run a marathon on Earth. He's running to raise awareness of The Prince's Trust.
Peake will head into space aboard a European Space Agency launch from Baikonur, Kazakhstan, scheduled to take place on December 15th. That will mark another first, too, because it will make him the first ever British man to head into space.
G/O Media may get a commission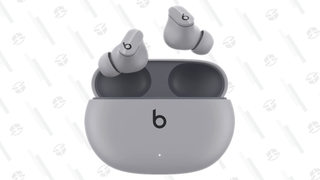 Image by Department for Business, Innovation and Skills under Creative Commons license