Everybody's wondered what it would be like to be James Bond. Not the womanizing or the killing or the endangering national security parts, of course. No, Gizmodo readers, it's all about the gadgets, and today's your lucky day.
An ongoing auction in the United Kingdom is offering up a handful of World War II-era spy gadgets at bargain prices. For as little as £100, you could be the new owner of a Protona Microphone Spy Watch Recorde or a rather lethal-looking SOE Agents Assassination Pen Dagger. SOE stands for Special Operations Executive, a British espionage and sabotage organization also known as "Churchill's Secret Army" that was tasked with defending freedom in Nazi-occupied Europe.
Should you use these spy gadgets? Probably not in daily life. Can you buy them to freak out your friends at a dinner party? That's up to you, 007.
Special Forces SOE / OSS Escape Utility Knife
G/O Media may get a commission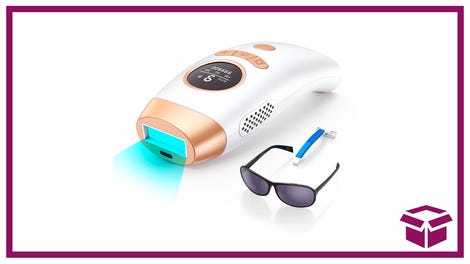 58% Off + Coupon
IPL Hair Removal Device
This is basically a Leatherman except instead of scissors and a useless saw, you get wirecutters and special blade for slashing tires. [Auctioneer's Estimate: £500 to £1,000]
---
Royal Air Force Tunic Button With Concealed Compass
Ever find yourself in a pinch where you need to know which direction is North but all you have to work with is an overcoat? This RAF Tunic Button with Concealed Compass is for you. [Auctioneer's Estimate: £80 to £120]
---
Royal Air Force Button Compass Lot
Did you lose your first RAF Button with Concealed Compass and need a couple more? These two "escape buttons" aren't as handsome as the more expensive concealed compass button above, but they'll do the trick. [Auctioneer's Estimate: £40 to £60]
---
SOE Agents Assassination Pen Dagger
The name of this item pretty much says it all. It's a pen until you need to kill someone, and then the device comes apart to reveal a dagger with a three-inch blade. According to the auction house, "These were also given to resistance fighters." [Auctioneer's Estimate: £300 to £500]
---
Protona Microphone Spy Watch Recorder
This is the good shit. Designed to look and function like a regular chronograph watch, this gadget becomes a recorder when you plug in a special wire attachment. According to the auction house, it may or may not work. [Auctioneer's Estimate: £100 to £150]
---
SOE Agents Concealment Key
Just gonna paste the auction house's description here because it is awesome: "interesting iron key which the end screws off to reveal hollow centre which could be used to smuggle out messages, conceal a compass or even used to conceal a weapon or poison." [Auctioneer's Estimate: £100 to £200]
---
SOE / Commando Garrote Wire
Okay, now we're getting real. This advanced version a mafioso's piano wire is studded with razor sharp barbs, so that when you go to strangle the enemy, you can cut off their head at the same time. Not for kids. [Auctioneer's Estimate: £60 to £100]
---
SOE Agents Assassination Lapel Spike
It's a lapel pin but for assassinations, not dapper looks. [Auctioneer's Estimate: £60 to £100]