This week, Bonhams hosted an auction of historical space items in Manhattan. The Space History Sale featured troves of objects and documents, both American and Soviet, dating back to the heyday of the space race. And Gizmodo got the chance to take a peek.
As with the dinosaur bone auction we attended at Bonhams back in November, the space history auction's attendees seemed to be mostly spectators—the majority of bids came in via internet or phone. Those who did bid in person mostly fit a certain mold: older, gray-haired men wearing tucked-in shirts and comfortable shoes. Folks who, you could imagine, were wide-eyed kids back when most of these artifacts were on active duty.
Apollo 11 lunar trajectory chart, showing the moon's orbital path around the Earth and the spacecraft's flight profile, signed by Buzz Aldrin. Sold for $2,500.
G/O Media may get a commission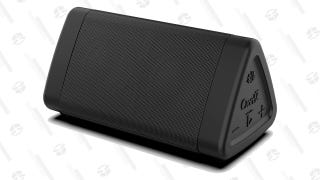 Save 31%
Oontz Angle 3 Portable Bluetooth Speaker
Broadly, the items up for auction fell in two categories. The first was what I'd dub functional memorabilia: official documents, handbooks, photos, and mementos from various space missions, most bearing inscriptions by the astronauts involved.
Many of these documents traveled to outer space, including the auction's highest-priced item: an Apollo 11 lunar surface checklist with notes written by Buzz Aldrin on the surface of the moon, which sold for nearly $70,000 (and which I was unfortunately unable to photograph before the auction began).
Apollo 14 final flight plan, signed by astronaut Edgar Mitchell. Sold for $750.
Closeup of an Apollo 11 chart showing the spaceship's launch and orbital path after lift-off, with an inscription by Buzz Aldrin. This three-chart item sold for $2,000.
There's seemingly a plethora of such memorabilia floating around (nearly 300 items in this auction alone), much of which originated with the families of the astronauts who flew the missions.
At first, this struck me as a little ghoulish, as I imagined family pawning off long-beloved artifacts of their hero astronaut's mission. But even back in the glory days of the space race, astronauts and NASA itself both had an eye for merchandising.
Viewed through this lens, every signed photograph or scribbled handbook was a long-term investment of sorts.
A sterling silver commemorative medallion, one of 127 carried to the moon during the Apollo 15 mission. NASA originally planned to send 304 of the medallions to the moon, but a spelling error on 177 of the medallions led to them not being flown. Bidding didn't reach reserve, so this item remained unsold.
Two U.S. flags carried by astronaut James Irwin to the surface of the moon during 1971's Apollo 15 mission. Items sold for $10,625 (left) and $10,000 (right).
On the right, a Snoopy astronaut toy signed by Apollo X astronaut Gene Cernan. NASA adopted Snoopy as its mascot to emphasize flight safety and quality control for the Manned Flight Awareness Program, though ironically the toys were made in China. Sold for $1,625.
The other broad category of space offerings was what I'd call "salvage parts": a seemingly random smattering of equipment wrested from spacecraft and ferreted away after the missions had ended.
Disembodied from their provenance, these individual mechanical components would have seemed a little out of place in a Manhattan auction house where six-figure art regularly crosses the block. I briefly entertained the fantasy that a handful of crazed millionaires were bidding against each other for the last crucial component needed for a secret spaceship project.
Docking control panel from the MIR space station. Sold for $9,375.
Top: Ascent stage rear support truss from the Lunar Module, unsold. Bottom: Apollo Lunar Module secondary landing leg strut, sold for $3,500.
But each item that went up for bid brought with it a story, and even the most mundane-looking part became a historical artifact as its provenance was explained.
Take the handrails from the Lunar Module's stepladder: they look like they came off your neighbor's pool furniture, but I guarantee nobody's clamoring to drop more than $3,000 on the lounge chair from next door.
Motion picture ring sight, used with the Maurer Data Acquisition Camera during the Apollo 15 mission.
The most striking artifacts on sale had to be the spacesuits. On display in Bonham's sidewalk-level window on a busy Manhattan corner, they attracted stares and selfies from the crowds walking by. It was easy to view the spaceship parts and paper documents with a sense of detachment—the cast-off detritus of a bygone race between two government monoliths—but looking at the spacesuits dismantled that aloofness. They put the achievements of the space race on a tangibly human scale. People left our planet wearing suits like this, I muttered to myself. They looked shockingly flimsy for the task.
The silver spacesuit shown in Bonhams' window display, from the first manned U.S. Mercury missions to space, sold for $43,750, bringing the most intense bidding action of the day.
My favorite items of the day, though, were much smaller: a pair of freeze-dried drink containers from the Space Shuttle era. One was for coffee, one for tea.
The pair sold for $187, which, compared to most of the other items on sale, was a relative bargain. Though it's probably the most anyone has paid for an 8 oz. coffee, even in this fancy Manhattan neighborhood.
---
Special thanks to Bonhams for inviting us to the Space History Auction. You can find the complete catalog of items here.
All images by Robert Sorokanich