El Niño's been very busy blasting the West Coast (and everywhere else) with storms. Now Folsom Lake, one of the most famous lakes to be depleted by California's drought, has surpassed its average water level for early February and will soon reach capacity for this time of year.
Last month, Lake Oroville made headlines when it rose 20 feet in 10 days. Folsom Lake was also busy filling up—although not as quickly; it rose 30 feet in 30 days—and the reservoir has now achieved something quite notable for being on the brink of disaster just two months ago. Behold!
Go here to view video from ABC10
The lake is at levels that are above what this date has seen throughout history, reports ABC10, and climbing. For the first time in several years, engineers will have to decide what to do with all that extra water, which might include releasing some from the dam. Although the reservoir is only about half full, hydrologists can only fill it to certain levels at different times of year to prevent flooding.

G/O Media may get a commission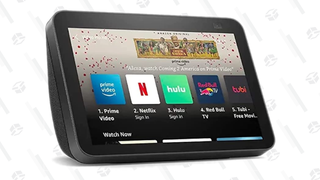 Let's just hope it keeps climbing—here's what happened for the last two years.
This is all great, but of course, we need snowpack, not just refilled reservoirs. The California Department of Water Resources also tracks snowpack for the Sierras and the news is just as notable on that front. Across the state, all three snow sensors are recording snowpack above normal, with a statewide average of 114 percent.

The state's snow survey took place today in Northern California and the results are far, far better than in years past. With 76.2 inches of snow this particular location was showing 130 percent of the average since 1966. Even more good news: The water content is 25.4 inches, which is "a really good start for this year."
Compare that to February 2014 when there was only eight inches of snow, and April 2014 when there was no snow at all.
[ABC10 h/t David Oliver]
Image via ABC10 video