Either California's first-in-the-nation plastic bag ban is working really well or volunteer litter hunters are suddenly doing a horrible job.
Last November, California voters passed Proposition 67, upholding a ban on single-use plastic bags passed by the state's lawmakers in 2014. A year later, preliminary data from thousands of volunteers who collected trash during California's Coastal Cleanup Day in September appears to show a remarkable drop in plastic bag refuse.
Compared to 2010, plastic bag litter has dropped by around 72 percent. Plastic bags now account for less than 1.5 percent of all litter, rather than nearly 10 percent. In Monterey County south of San Francisco, volunteers found only 43 plastic bags during the clean-up, compared to just under 2,500 in 2010.

The coastal cleanup, which covered some 1,800 miles across the state, had already shown a significant decrease in plastic bags thanks to educational efforts and local bans, and 2017 builds on that trend. In 2010, plastic bags came in third behind cigarette butts and fast food packaging as most frequently littered items, according to data from Coastal Cleanup Day. Now they appear to have fallen out of the top ten most littered items.
G/O Media may get a commission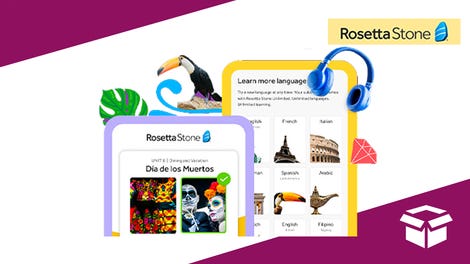 Extra 20% off
Rosetta Stone Lifetime Subscription - All Languages
"For decades, plastic bags were one of the most common items collected during the annual California coastal cleanup," said John Laird, California Secretary for Natural Resources, in a statement regarding the news. "This year, as California continues to transition to reusable bags, we are seeing a substantial decline in plastic grocery bag litter on beaches, rivers and parkways."
Before the statewide law went into effect, over 100 cities and counties across the state had passed their own bag bans. The statewide ban outlaws cheap, single-use plastic bags, and requires grocery stores to charge 10 cents for paper bags or thicker, reusable plastic bags that are meant to carry more and last longer. Of course, shoppers can always bring their own bags, or carry everything in their arms if they choose. The law did leave a carve-out allowing single-use bags to continue to be used for meat, bread, produce, perishables, and bulk items. These are the even more flimsy seeming bags you use to put your apples or hamburger meat in, not the ones used for packing groceries at the checkout register.

"When I took on the problem of plastic bag pollution four years ago, California retailers were distributing more than 19 billion single-use plastic bags every year," said California Secretary of State Alex Padilla, the author the state law banning single use plastic bags, in a statement. "Today, that number is zero. Once again California is leading the way, creating cleaner communities for all."
The rise of plastic bag bans in localities across the country has led to a corollary rise in bans on plastic bag bans, with at least four states—Michigan, Idaho, Arizona, and Missouri—having such "preemptive" laws in place. These ban bans are ostensibly meant to prevent undue financial harms to industries relying on plastic bags, such as restaurants and retailers, and to also save jobs from being lost in the plastic bag manufacturing sector. Basically, a new regulation to prevent a different new regulation. Go figure.
San Francisco, which became the first city to ban plastic bags back in 2007, recently started accepting them in curbside recycling, which is a challenge due to the material nature of the bags. Meanwhile, New York City, de facto home of the plastic bag when it comes to takeout, is caught up in a legislative saga over a plastic bag ban with no end in sight.

Bag bans are also catching on globally, and 40 other countries have either banned, partly banned or taxed single use plastic bags. China banned plastic bags thinner than .025 millimeters in 2008, France instituted a total ban on lightweight plastic bags at checkout counters in 2016, and the European Union announced in 2016 that by 2019, member states had to reduce plastic bag consumption to no more than 90 bags per person a year.
According to the Earth Policy Institute, a trillion single-use plastic bags are used each year, coming out to almost two million bags each minute. Many of these bags end up in waterways and eventually as part of the epic ocean pollution problem. More than eight million tons of plastic are dumped into oceans every year.
And yes, substituting one more durable bag for a number of one-off bags is not necessarily more environmentally friendly. It depends on where that other bag came from and what it's made out of, otherwise known as a bag's life-cycle. For instance, if you are using a cotton bag, you need to use it about 131 times to make up for the environmental footprint before it becomes preferable to a single-use plastic bag, according to KQED. While that might seem like a lot, we're sure you've got this one in the bag.

"Plastic bags are just one source of plastic pollution," Mark Murray, Executive Director of Californians Against Waste, told Earther. "Already more than 100 California cities and counties have taken up local ordinances to phase out single-use fast food packaging that cannot be recycled or composted. We expect the legislature to take this issue up in the next year or two."
"Generally, I think the new standard for consumers will be: 'If I can't put it in my recycling bin or compost it, then I don't want it,'" he said.