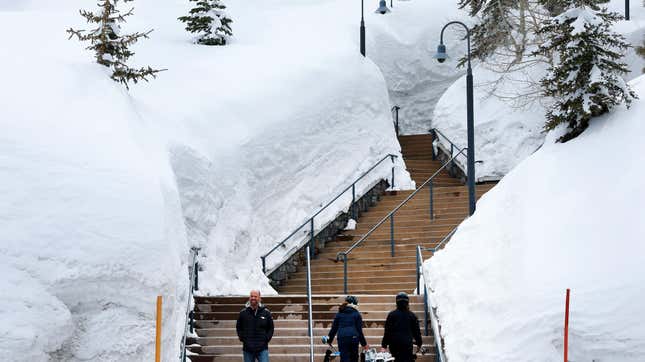 California is breaking records once again. State officials on Monday announced that the levels of snow in the Sierra Nevada mountains have reached historic depths, after a season in which more than a dozen major storms dumped intense amounts of precipitation on the state.
Each winter, California's Department of Water Resources conducts surveys to measure the level of snowpack in the Sierra Nevadas, which provide water to more than 75% of the state's population. On Monday, surveyors measured 126.5 inches (321 centimeters) of snow at one station, a jaw-dropping 221% of average for this time of year. The measurements from the statewide network put this season's snow levels at the highest since the network was established in the 1980s.
There's lots of good news to celebrate from a state that went through a worryingly warm, bone-dry summer. But these heavy snows are, paradoxically, a symptom of a warming world, since warmer air can hold more moisture. And the sharp contrast between a lengthy drought and this incredibly wet winter can actually be attributed to climate change through a phenomenon called weather whiplash, which studies have shown will become worse as the planet warms and the concept of "average" weather changes. The snow also poses substantial flooding risks for communities across the state when it eventually melts.
The town of Mammoth Lakes, which sits snuggled in the Sierra Nevadas, has been ground zero for a lot of this snow. The town's ski resort, Mammoth Mountain, triumphantly announced on Instagram last week that it had broken its all-time season snowfall record with 695 inches (1765 centimeters)—almost 58 feet—of snow over the course of this season. The post told skiers to gear up for a "legendary spring" and that the resort will "be open daily through at least July!"
The snow isn't all good news for ski resorts, however. Last month, Palisades Tahoe, another resort in the Sierra Nevadas that sits outside Lake Tahoe, had to close during a storm thanks to "the compounded effect of the incessant wet or snowy weather we have had over the past few weeks."
In a blog post, the resort described how staffers have had to manually clear out lift lines with shovels because there has been so much snow. "Seriously — the snow that has fallen recently is so heavy," the post says.
Check out these photos from Mammoth Lakes to see what a truly mammoth (pardon the pun) amount of snow looks like.