I guess the megapixel war is back on! Canon just announced two new DSLRs, the 5DS and 5DS R, that pack 50 megapixels of resolution. That makes them the highest resolution full-frame DSLRs ever to grace our presence. But big giant humongous images don't come without a price.
The Canon 5Ds and 5Ds R are almost the same camera. They both feature 50 megapixel full-frame sensors housed in the very same body as 2012's 5D Mark III. The only difference between the two new models is that the 5DS R cancels the low-pass filter, giving it an extra boost of crispy detail, along with an extra $200 on the price tag. The 5DS will ship in June for $3700, while the 5Ds R will be $3900.
Looking past the megapixel count, the cameras feature a 61 point AF system and dual DIGIC 6 processors. That should make it just as speedy and powerful as the recent 7D Mark II, which wowed us with its fast autofocus. I would guess that 50 megapixels of firepower is going to appeal mainly to landscape photographers toting tripods around. As users of other high-res cameras like the 36 megapixel Nikon D800 series or Sony's A7r know, it can be challenging to get handheld shots absolutely sharp. The tiniest shake of the hand or shift of focus will show its ugly face.
Tweaks have been added to make the camera more usable in that regard. It has mechanisms to reduce shake from the movements of the mirror, and a reinforced tripod mount for added stability.
G/O Media may get a commission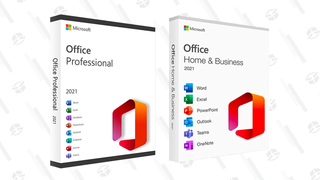 89% off
Microsoft Office Professional 2021 Lifetime License
Canon is being forthright about the unfortunate reality that such high resolution will hurt low light performance. Because the sensor's pixels are so small and densely packed, they gather less light. We were told that both new cams are expected to perform similarly to the 7D Mark II in low light. The 7D has a smaller APS-C sensor, and is thus inferior to a full-frame one. This effectively eliminates one of the major draws of a full-frame sensor, its superior low light performance.
The niche targeting of the 5DS and 5DS R is also evident of the lack of video features on the camera body. There isn't much being hyped by Canon in the way of codecs, frame rates, or usability features. It's not a surprise. Generally, video recording is better suited toward cameras with lower resolution sensors because video formats are themselves lower res. The 5DS is capable of shooting video, but don't expect it to be the camera's strength.
It will be interesting to see how other camera makers respond to Canon's play for megapixel dominance. Even though many would consider 50 megapixels to be overkill, once a spec like that is raised, companies often feel they have to answer back just so they aren't perceived as being inferior. There are rumors that the 50 megapixel sensor Canon is using is actually being manufactured by Sony, to be featured in Sony cameras of the near future.
Update: Canon's Chuck Westfall told Shutterbug that the new sensors are "developed completely in-house, by Canon."
In any case, the 5DS and 5DS R mark new territory in high res photography. Such specs might be impractical for most, but by golly, it's out there now, so expect to see a flurry of photographers outfitted with the new cams and flexing their megapixel muscles.