We could still be getting more solo Superman movies soon. Meet some brand new Star Trek aliens. The producers of Arrow tease tonight's big death reveal. There's more fallout from The Walking Dead's controversial finale, Plus, the return of Salem, and hopes for Supergirl season two. Behold, Spoilers!
Captain America: Civil War
According to a list of attendees provided to Comicbook.com for the movie's premiere next week, Alfre Woodard is a member of the Captain America: Civil War cast.
This is interesting, because Woodard had previously been cast in a primary role in the Luke Cage show, where she will play a character described as "Minetta", a New York politician who is widely believed to be the long term Luke Cage/Iron Fist villain Mariah Dillard, aka Black Mariah.
And meanwhile, Woodard is specifically listed as a member of the Civil War cast on the premiere guest list—cast members from Daredevil, Agents of SHIELD, and even Luke Cage himself, Mike Colter, are also attending, but they're labelled as "special guests" instead.
G/O Media may get a commission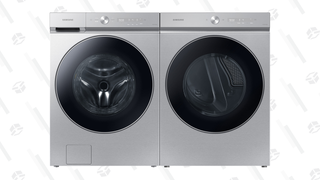 Get $500 back in credit
Last Chance: Samsung Bespoke AI Washer and Dryer Preorder
So at first glance, it looks as though Woodard's Luke Cage character will have a role in the movie, before moving on to her appearance in the Netflix show later this year. But according to one rumor, that's actually not the case—and instead, Woodard is playing two completely different roles in Civil War and Luke Cage.

Screencrush claims that Woodard has a minor role in the beginning of Civil War, playing the mother of an American citizen who was killed during the climactic scenes of Age of Ultron. She confronts Tony Stark about her son's death, blaming him and setting Stark on his repentant path towards supporting the regulation of superheroes in the movie.
It's possible Woodard could still be playing her Luke Cage character, and she just happen to lose her son during the events of Age of Ultron (causing a distrust of powered people that could potentially put her at odds with Luke Cage in the Netflix show). But it's also possible that this is just the latest example of an ever-growing divergence between Marvel's film and TV outputs, despite the company's insistence that its live-action universe is consistent across movies, television and Netflix.
At this point, though, no one is really sure whether this is a cross over, or more proof that Marvel's Cinematic Universe is splintering. All we do know is that Woodard is definitely in Civil War.
---
Superman
Zack Snyder says that there's still a chance that solo Superman movies could happen, even though none are currently on Warner Bros.' announced movie slate:
I think if we could get a good script it would be great to have a standalone Superman movie. I think that would be fun to do. Part of the reason we haven't announced the standalone Superman movie was to support some of the events of [Batman v Superman].
[IGN]
---
Star Trek Beyond
To celebrate the fictional anniversary of First Contact Day in the Trek universe, Justin Lin has shared a picture from the first day of filming on the movie, revealing two new alien characters. [YOMYOMF]
---
Arrow
Marc Guggenheim teases the upcoming reveal of the identity of the person inside the grave, which has been teased all through the current season. But he adds that his or her death is not necessarily the character's final appearance:
Dead is not goodbye. We definitely recognize across all three shows that when we kill off a character, it means something different now. I'm not going to put a qualitative judgment on whether it's more or less impactful. ... But certainly, we acknowledge that there's a difference. And Arrow, much more so than Flash or Legends, it traffics in death. For better or worse, death is part of the show. What we're finding, as we're pushing into Season 5, [is] the show has to evolve; it has to change. And the concept of death is evolving and changing, as we've already seen with Sara Lance.
Meanwhile, producer Wendy Mericle teases the reaction to the death, which occurs in tonight's episode:
I will say that the episodes we've written in the aftermath are devastating and they're meant to be. We wanted to explore that and to really have everybody feel the impact of this loss. It's a game-changer in a very sad way in that we're losing a beloved character, but also in the sense of big moves like this will open up new storytelling avenues and will force our characters to rethink their decisions and rethink their objectives.
[TV Guide]
---
Galaxy Quest
Enrico Colantoni says he's not yet been asked to return for the Amazon-produced TV series based on the classic film:
It's one of those things where I'll be hurt if they don't [ask], but relieved at the same time. Because I'm one of the believers that the movie shouldn't be messed with. There should be no sequel. There should be no TV version. I can't imagine what the engine will be.

I am very, very curious [about the premise]. But I don't think, after almost 20 years, I could play that guy again. He'd be older, that's for sure. That high, shrill voice would definitely be an octave or two lower
[TV Line]
---
The Vampire Diaries
Kat Graham, who has played Bonnie on the show since it first began, has confirmed that she will leave the show after its upcoming eighth season. [US Weekly]
---
iZombie
Rob Thomas hypes up the season finale:
It's epic. I will not downplay our season finale. Last year, we felt like we had done a big season finale, and I feel like this one dwarfs it. I don't think a show of our budget has the potential to go any bigger. We kind of saved all year so we could blow it out on this final episode, and we really do.

It's as close to a traditional zombie movie as we will or have ever done. I think the action starts at the end of act two and goes all the way to the end of the episode. So I'm really psyched about that. I just got to show the writing staff the cut of the season finale, and I'm feeling good.
[CBR]
---
The Walking Dead
Greg Nicotero says that the conclusion of the show's extremely divisive cliffhanger season finale has yet to be recorded:
We have not filmed it, yet and I don't know if the person knows yet or not. Knowing the fact that any death changes our characters and changes our people in a very dramatic way, what's exciting about season seven is how a death — any death — changes people and propels us in a different direction. While we were shooting this episode, I'd never seen the cast more energized and more excited about the future of the show. The fact that the world is our oyster right now is exciting times for The Walking Dead. We're changing the direction of the show and bringing Negan in — it's a great time. Everyone is so excited to get back to work [in May] to get where we're going.
[THR]
---
Outlander
Here's a list of episode titles for the second season's eight to thirteenth episodes:
Episode 2.08 - The Fox's Lair

Episode 2.09 - Je Suis Prest

Episode 2.10 - Prestonpans

Episode 2.11 - Vengeance Is Mine

Episode 2.12 - The Hail Mary

Episode 2.13 - Dragonfly in Amber (Season Finale)
---
Supergirl
David Harewood is optimistic for a second season of the show:
CBS has made some very positive noises. All I know is that we've just had one of our biggest audiences of the year so far with the 'Flash' crossover, so it's all looking positive. The fans have been very vociferous and very vocal, so hopefully it's enough to get us a second season.
---
Salem
The show will return for a third season at Halloween. Here's a new teaser trailer to announce the still-nebulous date:
---
Lucifer
Finally, a gallery of images from "St. Lucifer" has been released—head to the link to see more. [KsiteTV]
---
Additional reporting by Gordon Jackson and Charlie Jane Anders. Banner Art by Jim Cooke.

Image: Luke Cage.