Powers has found its Christian Walker. James Cameron discusses production plans for the Avatar sequels. Ron Howard explains what's next for The Dark Tower. Plus some updates on American Gods straight from Neil Gaiman, and a John Carter plot summary!
Spoilers from here on out!
Top image from Captain America.
Avatar 2 & 3
James Cameron confirmed that he plans to stay in LA's Manhattan Beach for all his filming and visual effects needs:
"We're shooting two films back-to-back, so I'm writing two scripts, not one, which will complete a [three]-film story arc – not really a trilogy, but just an overall character arc — so I'm pretty excited about that. We're doing a lot of preliminary work right now on new software and new animation techniques and so on. We're creating a new facility in Manhattan Beach so everybody that's not already dead is coming back. It's absolutely going to generate jobs. There is a plethora of visual effects artists and a lot of them are out of work right now, so it's a really great place to get a lot of talented people. What goes into his motion capture process is really different than what anyone else does. Another thing the Manhattan Beach studio affords us is the ability to expand. Should we need to pick up and do a live-action shoot, should we need more space, they have it.
---
Captain America
Cowriter Stephen McFeeley confirmed that he and Christopher Markus will be back to write the sequel, and that the two recently signed off on the deal with Marvel Studios. He also spoke a little bit about the sequel's structure, which will hopefully incorporate both World War II and present-day sequences:
Well, our hope is that there is room and we're negotiating how to do that now. The story will likely be in the present day. We're experimenting with flashback elements for more period World War II stuff. I can't say much more than that but we made it baggy enough to refer to more stories in the past.
G/O Media may get a commission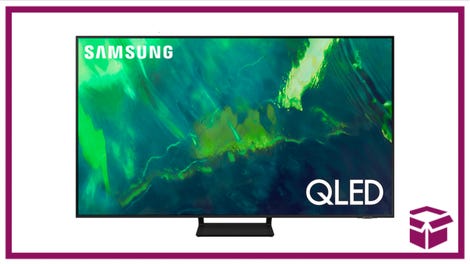 35% off
Samsung Q70A QLED 4K TV
Save big with this Samsung sale
If you're ready to drop some cash on a TV, now's a great time to do it. You can score the 75-inch Samsung Q70A QLED 4K TV for a whopping $800 off. That knocks the price down to $1,500 from $2,300, which is 35% off. This is a lot of TV for the money, and it also happens to be one of the best 4K TVs you can buy right now, according to Gizmodo.
He also confirmed that they wrote the post-credits scene for Captain America. [Screen Junkies]
---
John Carter
Disney has released this official description:
From Academy Award-winning filmmaker Andrew Stanton, "John Carter of Mars" is a sweeping action adventure set on the mysterious and exotic planet of Barsoom (Mars). Based on the classic sci-fi novel by Edgar Rice Burroughs, the film tells the story of John Carter (Taylor Kitsch), who is inexplicably transported to Mars where he becomes embroiled in a conflict of epic proportions amongst the inhabitants of the planet, including Tars Tarkas (Willem Dafoe) and the captivating Princess Dejah Thoris (Lynn Collins). In a world on the brink of collapse, Carter discovers that the survival of Barsoom and its people rests in his hands.
---
The Hobbit
Liv Tyler says she hasn't been approached by Peter Jackson to reprise her role as Arwen, although she said she would like to make a return appearance if possible. For those wondering where Arwen would fit into all this, I believe she was living with her grandmother Galadriel at the time of The Hobbit, at least if I recall the chronology of "The Tale of Aragorn and Arwen" from The Lord of the Rings appendices correctly. (What? Why are you all looking at me like that?) Cate Blanchett is already confirmed for a return as Galadriel, so as far as randomly incorporating Lord of the Rings actors into The Hobbit goes, this would actually be way more organic than the already-confirmed Elijah Wood cameo. [ComingSoon.net]
---
Snow White and the Huntsman
Up to this point, I've been studiously avoiding the half-dozen or so competing Snow White adaptations, because some things are just too ridiculous. But now there's this - Snow White and the Huntsman, which already features Twilight's Kristen Stewart and Thor's Chris Hemsworth as the title characters plus Charlize Theron as the evil stepmother, has reportedly cast the following four actors as dwarves: eternal badass Ian McShane as the dwarf leader Caesar, badass emeritus Bob Hoskins as the blind dwarf Constantine, the awesome Eddie Izzard as the big and burly dwarf Tiberius, and Doctor Who's Dream Lord Toby Jones as the timid dwarf Claudius. All right, Snow White and the Huntsman... now you've got my attention. [Heat Vision]
---
The Dark Tower
Ron Howard explained that the recent production problems were really a result of his attempt to fast-track the project due to weather concerns, and the delays were a natural reaction on Universal's part to some lingering production questions. While that might just be spin, Howard does say he's still very much committed to making the movies and TV series. And while Javier Bardem is not locked in as Roland, he remains their first choice, and Bardem wants to play the role if scheduling works out. Howard's producing partner Brian Grazer also said that, while there have been some budget cuts, they are not "radical" and Akiva Goldsman is not having too much trouble rewriting the scripts to accommodate the reduced budget.
Howard also offered some more insight on just how complex this adaptation will truly be:
The universe Steve King created is so dimensional and creative. It blends scope, sweep, and adventure with some very personal compelling stories. We could have tried to force all of it into one or two or three movies. It became clear to me that the medium of TV has become so bold and cool, we could use it to our advantage creatively and really fulfill the possibilities of this universe of characters King gave us to work with. We can use the intimacy of television when that's appropriate, and the scope and scale of the big screen with the bigger fantasy ideas. We discovered elements that would probably never have a home either on the big screen or on TV, but would make fantastic narrative gaming opportunities that won't rehash the movies or TV, but have its own material borne out of the books and graphic novels. We've got gaming designers and there is enthusiasm for that. It's a way to use all the mediums at our disposal to try to fulfill what's possible. Universal sees this as an asset that can benefit the company in a lot of different ways.
[Deadline]
---
Torchwood: Miracle Day
Russell T. Davies confirmed that the Doctor is still pretty much barred from appearing on Torchwood:
"No, because actually the Doctor's never gone into Torchwood, it's always been the other way round, Torchwood's gone into Doctor Who, which I think is correct because there's a big child audience for Doctor Who and I think that would demand if we took the Doctor into Torchwood it would be a clash of styles."
The BBC and Starz have released this official description for the tie-in motion comic Web of Lies:
Torchwood: Web of Lies is an episodic interactive experience for iOS that fuses together motion comic and gameplay elements to tell an original and digitally exclusive Torchwood story. Players will participate in a parallel storyline to Torchwood: Miracle Day that includes lead characters Captain Jack Harkness and Gwen Cooper – voiced by John Barrowman and Eve Myles.

Torchwood: Web of Lies runs alongside weekly premieres of Torchwood: Miracle Day, providing fans with a way to engage in the world of Torchwood between episodes. It reveals a past day in the lives of Captain Jack Harkness and Gwen Cooper - a day they've both forgotten. The events of that day fuel a modern day conspiracy-laced treasure hunt, as Holly Mokri, voiced by Eliza Dushku (Dollhouse, Tru Calling, Buffy The Vampire Slayer), labours to uncover the secrets of Miracle Day.
You can read the rest at the link. [Doctor Who News Page]
Here are some more promo photos. [SpoilerTV]
Here's a tidbit:
Dichen Lachman's CIA character proves to be a real, ahem, head-turner. (That'll make more sense after you watch the second episode.)
[TV Line]
---
True Blood
Felicity and Grey's Anatomy actor Scott Foley has reportedly been cast as Patrick, an army buddy of Terry's who has a major role in the season finale and then will become a recurring character in season five. [TV Line]
The season premiere features a big development for Bill that will affect the rest of the season. [TV Line]
---
American Gods
Neil Gaiman offered some updates on the status of the HBO adaptation of his novel during an appearance at the 92nd Street Y last night, and we were in attendance. He said the production team is thinking that the first season of the show would cover the events of the novel. There are two more short stories that Gaiman is thinking he needs to write about Shadow's adventures in the UK before Shadow returns to the US, which he would do at the start of the sequel to American Gods. Gaimain said the following things are in the "box" for the sequel of American Gods: Jesus, Bigfoot, Cassadaga, Florida (he didn't name this specifically, but it was fairly clearly implied). Also Shadow will be dealing with "baggage" that he brings back from his UK adventures. Also, Gaiman reassured one audience member that robots will not be taking over the human race.
---
The Walking Dead
Pruitt Taylor Vince, who played Mose Manuel on Deadwood and recently had a recurring role on The Mentalist, has reportedly been cast as Otis, a foreman at Herschel's Farm. [TV Line]
Here's a new batch of set photos. [SpoilerTV]
---
Powers
Jason Patric, who you might remember from such movies as Narc and Sleepers, has reportedly been cast as male lead Christian Walker. [TV Line]
---
Warehouse 13
Here's another promo for season three.

---
Alphas
Here's a sneak peek.

And here are some promo photos for the pilot. [SpoilerTV]
Off the Map actress Valerie Cruz has reportedly joined the upcoming Syfy show in a recurring role as Department of Defense Special Agent Kathy Sullivan. This mysterious (what else?) character will make her debut appearance in episode three, "Cause and Effect." [E! Online]
---
Falling Skies
Here are some photos for the next episode, "Prisoner of War." [SpoilerTV]
Sarah Carter reveals the next episode will offer some insight into her character Maggie:
"It's revealed quite quickly why she is the way that she is. She comes by her tough exterior honestly and she protects herself for good reason. She's covered in all these tattoos that say a lot about her, so I'm hoping that people notice the tattoos and really question her character as it develops."
[TV Line]
---
Green Lantern: The Animated Series
Here's a trailer for Cartoon Network's upcoming show. [Spinoff Online]

---
Additional reporting by Katharine Trendacosta, Michael Ann Dobbs, and Charlie Jane Anders.