One of the all-time great British comedy series, Blackadder, featured Rowan Atkinson and a cast of goofball characters set in different historical periods. And now a military genealogy website has tracked down the real-life counterparts of the characters who appeared in the series' WWI finale, Blackadder Goes Forth.
Since the start of the WWI centenary, Forces War Records noticed a marked increase in people using their site to trace family members who served in the war. The company responded by transcribing an additional 1.5 million pieces of data, when they made a discovery.
"We were uploading new information onto our database when we came across a Captain Blackadder," says Dominic Hayhoe, the company's CEO. "As fans of the television show, we wondered if we could find the military records of the other fictional characters' namesakes. So we challenged our team of professional researchers and military experts, who are all based in the UK so are familiar with the Blackadder series, to find them; which they did. The only person we haven't been able to track down, so far, from World War 1 is a General Melchett. According to the military records we have, he makes an appearance in World War 2."
As the Forces War Records' blog notes, fans of Blackadder Goes Forth will be surprised by some of the similarities with the fictional characters:
Apart from the obvious similarities of surname, rank and the fact all of them served in the trenches, both Lt. Georges went to Cambridge, rowed for their college, were unmarried, joined the Army as commissioned officers and, it would appear, were of good family stock. They were also both pilots who could draw extremely well. Tragically, both met their ends in the trenches….The two Captain Blackadders rose up the ranks and served in the British Army before the outbreak of the First World War, completing service overseas. Both were bachelors who fought at the Somme in 1916. They even share character traits of 'coolness' and 'resource' which earned Robert John Blackadder the Military Cross and Edmund Blackadder many laughs for his schemes to escape the trenches and various life-threatening predicaments… The other characteristic the Baldricks have in common is that both come from humble backgrounds and from illiterate families. However, unlike his TV counterpart, the real Baldrick could read and write. Whether he was also a cook, entertainer, poet and musician the records do not say but like Private S. Baldrick, Private J. Baldrick tragically met his end fighting in the trenches.
The final episode of the series, "Goodbyeee," featured Atkinson's Captain Blackadder attempting to escape impending doom by pretending to be insane. It failed. As Blackadder observed before going over the trenches: "Who would have noticed another madman around here? Good luck, everyone."
G/O Media may get a commission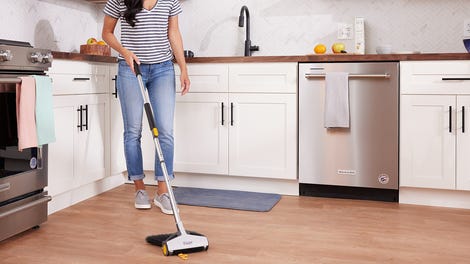 BOGO 50% Off
Flippr - BOGO 50% Off
[H/T War Is Boring]