Yes, the fan-favorite Firefly crew are finally back in action, thanks to Dark horse's new series, while the Dredd movie gets a comic sequel as well. Plus Snowpiercer, super-Brits, Captain Jane T. Kirk (really!) and more, all in this week's comics!
---
New Issues
Dark Horse:
• Serenity: Leaves on the Wind #1: Six months after the events of the Serenity movie, Captain Mal, a pregnant Zoe and the rest of the crew are in greater danger than ever.
• Furious #1: A new rage-fueled superheroine tries to do good before the media exposes her real identity — as well as the crimes she once committed.
• Other releases: Conan: People of the Black Circle #4, Never Ending #3, Sledgehammer '44: Lightning War #3.
G/O Media may get a commission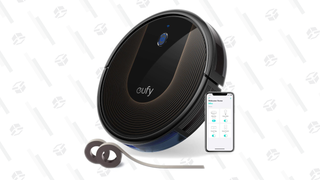 48% Off
Eufy BoostIQ RoboVac
DC:
• World's Finest Annual #1: Supergirl and Robin of Earth 2 battle a very angry Wonder Woman.
• All Star Western #27: Jonah Hex heads to modern Metropolis, but runs afoul of a certain man of steel.
• Earth 2 Annual #2: The Batman of Earth 2 reveals his origin, but will the other heroes ever trust him again?
• Other releases: Adventures of Superman #9, Aquaman #27, Batman and Robin Annual #2, Batman: The Dark Knight #27, Beware the Batman #4, Catwoman #27, Damian: Son of Batman #4, Dead Boy Detectives #2, Fables #137, The Flash #27, Forever Evil: Argus #4, Green Lantern Corps Annual #2, The Green Team: Teen Trillionaires #8, Justice League Dark #27, Larfleeze #7, Red Lanterns #27, Smallville Season 11 Special #4, Superman #27, Talon #15, Teen Titans #27.
IDW:
• Star Trek #29: Captain Jane Kirk leads the crew of the Enterprise on its five-year mission… and no, "Jane" is not a typo.
• Godzilla: Rulers of the Earth #8: The battle for the planet comes down to an epic, giant monster brawl.
• Other releases: Ghostbusters #12, Mr. Peabody & Sherman #4, The Other Dead #5, TMNT #30, Transformers: Regeneration One #98.
Image:
• East of West #9: Death and the Ranger are drawn to their inevitable battle.
• Saga #18: Official summary: "Our heroes' stay on Quietus reaches its inevitable conclusion."
• Other releases: Black Science #3, Bounce #9, Clone #14, Cyber Force #8, Five Weapons #6, Invincible #108, Revival #17, Saga #18, Saviors #2, Super Dinosaur #21, Thief of Thieves #19, Witchblade #172.
Marvel:
• Revolutionary War: Knights of Pendragon #1: Marvel's super-Brits investigate a hidden underground cloning factory — a magical cloning factory at that.
• Miracleman #2: Mild-mannered reporter Michael Moran reclaims the destiny that was hidden from him.
• Inhumanity #2: Queen Medusa tries to deal with the loss of her king and the sudden gain of several thousand new subjects.
• Other releases: The Amazing Spider-Man Movie Adaptation #1, Avengers Assemble #23, Cataclysm: The Ultimates' Last Stand #4, Guardians of the Galaxy #11, Night of the Living Deadpool #2, Superior Spider-Man #26, Thor: God of Thunder #18, Thunderbolts #21, Uncanny Avengers #16, Uncanny X-Force #17, X-Men: Legacy #23.
Other:
• Dredd: Underbelly: The comic sequel to the surprisingly good 2012 movie adaptation starring Karl Urban.
• Lil' Sonja #1: The tiny, adorable adventures of the tiny, ass-kicking warrioress. Comes with two activity pages!
• Other releases: Adventure Time 2014 Special #1, All New Executive Assistant Iris #3, All New Fathom #5, Army of Darkness Vs. Hack/Slash #5, Bar Maid #2, Bravest Warriors 2014 Annual #1, Critter #18, Crossed Badlands #46, Dejah Thoris and the Green Men of Mars #10, Grimm Fairy Tales: Code Red #2, Grimm Fairy Tales #93, Grimm Fairy Tales: Tales from Oz #1, Hit List #4, Mercy Sparx #4, The Shadow: Year One #7, Tarot: Witch of the Black Rose #84, Trish Out of Water #4, Uber #9, Ursa Minor #3, Warlord of Mars #33, WWE #2.
---
Trade Paperbacks and Hardcovers
Dark Horse:
• Gantz Vol. 30.
DC:
• Justice League Dark Vol. 3: The Death of Magic: The Books of Magic send Tim Hunter and Zatanna to a world where science has imprisoned magic.
• Batman and Son: A rerelease of Grant Morrison's tale where the Dark Knight learns he fathered a son during his tryst with Talia Al'Ghul, who has trained the boy as an assassin.
• Other releases: Green Lantern: New Guardians Vol. 4: Love and Death, The Unwritten Vol. 8: Orpheus in the Underworlds.
IDW:
• Half Past Danger: A group of World War II soldiers must keep the Nazis from adding dinosaurs to their arsenal of weapons.
• Other releases: G.I. Joe: Complete Collection Vol. 2, The Library of American Comics Essentials Vol. 4: Alley Oop, Mr. Peabody & Sherman, Superman: Golden Age Sundays 1943-46, Transformers: IDW Collection Vol. 3.
Image:
• The Darkness: Rebirth Vol. 3, Perhapanauts Vol. 3.
Marvel:
• Warlock by Jim Starlin: The Complete Collection: The cosmic adventures and inner conflict of the space-faring demi-god known as Adam Warlock.
• Superior Carnage: The Wizard creates the most dangerous, most violent incarnation of Carnage ever to join his Frightful Four.
• Other releases: Cable and X-Force Col. 3: This Won't End Well, Guardians of the Galaxy Vol. 2: Angela, Marvel MasterWorks: X-Men Vol. 6, Thunderbolts Vol. 3: Infinity, Ultimate Comics Spider-Man Vol. 5,
Other:
• Snowpiercer Vol. 1: The Escape: The hit French comic about class warfare in the train carrying the last remnants of humanity. Our review is here.
• Lost at Sea: Bryan Lee O'Malley's first graphic novel about a girl named Raleigh, who believes her mother sold her soul to Satan, who then put it in a cat.
• Dragonball Z full Color Vol. 1: The world=famous, best-selling manga gets colorized and enlarged for its ultimate re-release.
• Other releases: Accident Man, The Art of Ramona Fradon, The Art of Vampirella: Warren Covers, Assassin's Creed: Brahman, Attack on Titan Vol. 11, Battle Classics, Black Butler Vol. 16, Bleach Vol. 59, Blue Morning Vol. 4, Bokurano Ours Vol. 10, Day of the Magicians, Deadman Wonderland Vol. 1, Deflower the Boss, Devil and Her Love Song Vol. 13, Durarara Saika Vol. 3, Gangsta Vol. 1, Goong Vol. 14, Hartlepool Monkey, Hayate the Combat Butler Vol. 23, Higurashi Vol. 24, Kingdom Hearts 358/2 Days Vol. 2, Magi Vol. 4, Ninjago Vol. 9, Nura: Rise of the Yokai Clan Vol. 19, Omamori Himari Vol. 11, Prince Valiant Vol. 8: 1951-52, Red Sonja Vol. 13: The Long March Home, Roll Hard, Sakura Him Vol. 12, Siegfried Vol. 2: Valkyrie, Soul Eater Vol. 18, Tezuka's Buddha Vol. 3: Devadatta, Toriko vol. 20, Triage X vol. 5, Umineko Vol. 5, Voice-over Seiyu Academy Vol. 3.
---
As usual, here's the list of everything being released to comic stores tomorrow, and you can find your nearest comic retailer here.