Wireless charging has been around—even for the iPhone—for years, but it wasn't until the last 12 months that it's been refined to be as good as standard wired charging. Case-mate's Hug is our favorite iPhone charging pad.
The Price:
$100
The Verdict:
Almost perfect. In our previous tests, wireless iPhone charging usually came by way of an ugly charging pad and an ugly case. In this instance, Case-mate's charging pad is elegant and compact, but its iPhone case is really something. I'd say it's one of the very few cases that make the iPhone look better than it does naked. (That's high praise for me, a guy who never uses cases.)
G/O Media may get a commission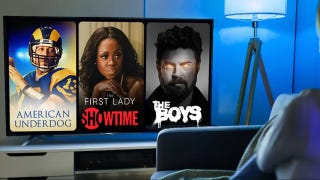 UNDER $1
99¢ Prime Video Channels
The sleeve is made of two parts—both plastic—and combine in a locking mechanism that seems secure enough to survive a drop. For something that provides wireless charging components, it doesn't add that much more heft to the phone than you'd logically feel is necessary. It's not as elegant a solution as replacing the back panel on a Palm Pre and being basically transparent, but it works, and it protects at the same time.
Charging is also quite fast. In fact, it charges about as quickly as docking it into one of the many iPod docks or iPod chargers you may have lying around your house. So you don't need to sacrifice performance for convenience. Also, it uses the eCoupled wireless charging spec—not just a proprietary one from Case-mate—so future wireless charging-capable devices you have that also uses the same spec can interoperate with this. Woo.
It's not all perfect
Despite the Hug being a fantastic case and an overall pleasant experience, there are some bugs we would like worked out. The most important one is the fact that the case doesn't have a pass-through 30-pin iPod dock, so you can't dock this with your computer unless you take your phone out of the case. We can overlook the bottom not being small enough to fit into a standard iPod dock, but at the very least you should be able to sync your phone without having to perform a disassembly every time.
Also, there's a weird ticking/wheezing sound emitted whenever you place the case onto the charging pad. It's not loud, but it's like having an asthmatic bunny sitting next to you the whole day. We're not sure what's causing it, it'd be great if the sound could be eliminated entirely.
Until Apple makes a wireless charging version of the iPhone—with wireless syncing too, please—this is a pretty damn good alternative. [Hug]
The case itself is solid, pretty and one of the best cases (period) that we've used for the iPhone


Charging is fast—as fast as wired charging


The charge dock is compact and not ugly


Weird ticking noise when charging


Can't dock or sync with the case on