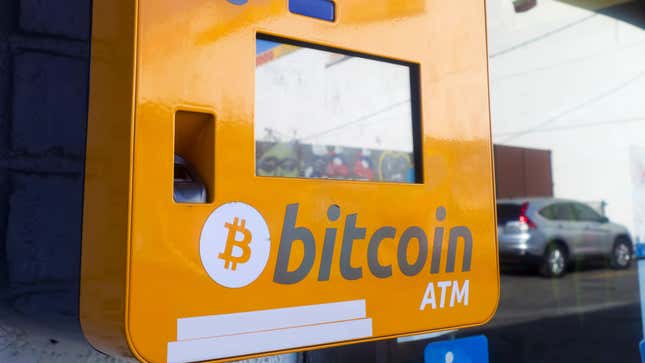 You've surely seen one...a big, orange eyesore shoved awkwardly into the corner of your local supermarket or perched ominously near the neighborhood gas station. Should you be foolish enough to approach, the eyesore will encourage you to dig into your wallet and fork over cold hard cash in exchange for make-believe money from the internet...
He Tossed His Bitcoin, Now He Wants It Back
It's...*shudders*...the dreaded crypto ATM. A bizarre artifact of the current cultural moment, these machines have flooded U.S. cities over the past several years, but boom times for the little bitcoin dispensers may soon be at an end. One of their biggest U.S. operators is broke.
Cash Cloud—which supplies some 7.9 percent of the bitcoin ATM machines in the U.S.—filed for Chapter 11 bankruptcy in Nevada bankruptcy court on Tuesday, Cointelegraph reports. The company's bankruptcy comes mere weeks after Cash Cloud's biggest financial supporter, the crypto lender Genesis Global, also filed for bankruptcy, yet another victim of cryptocurrency's massive downturn over the past nine months. The Las Vegas-based ATM vendor, which sells its line of Coin Cloud crypto machines in both the U.S. and Brazil, has only $50 million to $100 million in assets but has liabilities between $100 million to $500 million, according to its bankruptcy filing. The filing also says that the company has between 5,001 and 10,000 creditors. I'm no Goldman Sachs intern, but I'd say that seems bad.
Gizmodo reached out to Coin Cloud for comment and will update this story if it responds. In a statement provided to Cointelegraph, Chris McAlary, the founder and CEO of Coin Cloud, said that the bankruptcy would allow the company to "rework our debt, protect the interests of our creditors, and emerge as a stronger, more financially stable company." McAlary added that he was still "optimistic about the future of the cryptocurrency industry."
Over the past several years, crypto ATMs crept into America's less glamorous places, popping up in cities' truck stops, gas stations, and convenience stores, as crypto's brief national glowup proceeded in earnest. Axios writes that, between September 2020 and September 2022, the number of machines in the U.S. more than tripled, driving the total number up to at least 63,000 machines, according to one online estimate. Of that number, Coin Cloud played an important role, representing a 7.9% share of the nation's bitcoin ATM market overall, Axios writes. Of course, crypto's glowup is decidedly over now, replaced by a crypto winter, and it appears that Coin Cloud is one more victim of its long and destructive reach.