The Gadget: The Casio EX-FH20 camera, bargain brother to the popular EX-F1. It features 1000 fps slow-mo video, a 40 fps burst mode for still shooting and a 9.1-megapixel sensor, as well as good ol' 720p at regular speeds, all for just over half the price of the original slow-mo star.
G/O Media may get a commission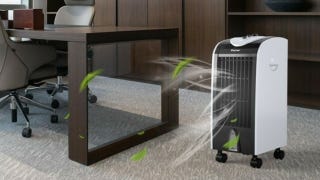 Save $10
Evaporative Portable Air Conditioner Cooler with Filter Knob
The Price: $600 The Verdict: Casio did a great job of bringing the power of the EX-F1 down to a beginner's level for the EX-FH20. The functions on the new camera are more streamlined than its bulkier predecessor: missing are the dedicated shooting mode switch dial, the multi-use focus/zoom ring and separate buttons for video and still capture from the F1. But on the other hand, the FH20 bests the F1 in a couple places, with its 9.1MP sensor and 20X optical zoom, compared to 6MP and 12X in the original. The on-board video editor is still there and simple to use for cutting down lengthy slow-mo clips. And whaddya know, it takes decent (albeit more point-and-shoot than DSLR quality) pictures too, as seen in the gallery below.
But we know what you really want to see: how the slow motion video compares to the original exploding Mentos-capturing beast. As seen in the clip above, it does the job much like the original. You give up some video frames when opting for the budget cam—it records 210, 420 and 1000 fps instead of 300, 600 and 1200 fps—but that's not a huge difference. And while 1000 fps video shrinks is at a paltry resolution of 224x56 pixels—even measlier than the original—it doesn't get as dark as the F1's output tended to, so you'll have slightly more clarity in the crazy slow but still mostly novelty setting. It also shoots other types of video well. The 30 fps-210 fps "She Walked in the Room" mode is still there, and is a fun way to make otherwise typical activities look extremely epic. Also, 720p HD video is crisp and clean, and doesn't have the nasty "jello effect" when panning that cheaper camcorders designed specifically for this purpose often suffer from. If you choose an FH20 over the F1, you sacrifice more than just not-as-slow-mo video. Without separate buttons for video and stills, you lose the ability to capture images while you record video, a great feature in the last model and the hardest thing to lose. Also gone is ultra-fast 60 fps LED strobe flash option, but it can still fire off 5 fps with the standard flash firing (vs. the F1's 7 fps). Most of the other features remain, though slightly dialed down: 40fps high-speed burst shooting (with resolution dropped to 7MP) instead of 60fps on the F1, and smaller sizes for slow-mo video as mentioned earlier. And you better bring some rechargeable batteries—gone is the rechargeable Li-ion, and this camera eats four AAs like they were a delicious piece of cake. But with the steep discount over the F1 and the more direct, easier to use interface, for those who mostly want to shoot slow-mo video while taking a few pictures on the side it's not a hard sacrifice to make. [Casio] What you gain with the EX-FH20 over the EX-F1: • 9.1MP camera sensor over 6MP • 20X optical zoom over 12X • Easier interface for beginners • $400 in your pocket (vs. the EX-F1's $1000 price tag) What you lose: • Slow-motion video size and frames (EX-FH20 records in 210, 420 and 1000fps at 480×360 224×168 and 224×56 respectively—EX-F1 records in 300, 600 and 1200fps) • Taking still shots while shooting HD video • 60fps LED flash strobe mode • 20 fps of burst still shooting (down to 40 fps compared to 60 before) Once again, if you can't get Giz's slow-mo song du jour out of your head, here's the Amazon MP3 link. [Hide and Seek by Imogen Heap] And if you're still humming the song made famous by the Harlem Globetrotters, here's an Amazon MP3 link to that too. [Sweet Georgia Brown by Brother Bones]