Heads Up: Falling Skies Has Gotten Pretty Watchable Again, so watch it on the cheap.
---
G/O Media may get a commission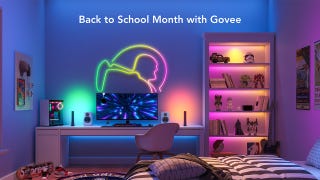 Back to School
Back to School Month with Govee Sale
If you haven't read the revamped (and groundbreaking) Ms. Marvel comic books, Volume 1 is under $11 right now for a physical copy. [Ms. Marvel Volume 1, $11]
---
Humble Bundle has a neat little sale going on Archie digital comic books today. Pay what you want for the bundle, with more unlocked at higher price points. [ Archie Comics Bundle]
---
The HD Remaster of Final Fantasy X and X-2 was one of our most popular games of 2013, which was impressive since it didn't actually ship until 2014. If you missed out, it's down to a new low of $14 today. [Final Fantasy X|X-2 HD Remaster, $14]
---
Vita Memory Cards are by far our most requested deal, so stock up. These aren't all-time best deals, but they're both on the low-end of their price ranges.
---
Go reap some souls for 33% off, and check out the TAY Review if you're curious.
---
If you need some new home theater gear for the big game, B&H has great deals on a number of TVs, sound systems, and more today. Plus, purchases of $50 or more are eligible for 2 years of SquareTrade warranty protection for just $.01.
---
This stainless steel insulated Thermos bottle will keep your drinks cold for up to 12 hours. Plus, it just looks really nice. It's never been cheaper on Amazon. [Thermos Vacuum Insulated 24-Ounce Stainless Steel Hydration Bottle, $18]
---
These are USB 2.0 flash drives, and they aren't very spacious, but dammit I want them anyway.
---
If you own an iPhone 6, iPhone 6 Plus, or Galaxy Note 4, today's Amazon Gold Box is brimming with a variety of cases and screen protectors for $10 or less.
You won't find any tank-like LifeProof cases in here; most of the designs are pretty slim and minimal. But really, unless you're a professional mountain climber, this is all you'll need day-to-day. Head over to Amazon and check out the full selection, but be sure to check out before midnight PT, when the prices will shoot back up. [Amazon]
---
We've all heard that watching TV in the dark can be pretty tough on the eyes, but an ambient bias lighting setup can make the experience much more palatable. This basic USB-powered kit from Antec is only $16 today, and takes just a few seconds to install.
Update: Amazon is backordered, but you can still lock in your price and wait for t hem to get more.
For this price, the light won't change color based on what's on-screen, but its pale white glow will still reduce eye strain at night, and can even improve your TV's perceived contrast ratio. If it sounds like voodoo, consider that the kit has a 4.2 star review average from nearly 200 customers, and at this price, it's not like you have much to lose. [Antec Bias Light, $16]
---
Retailers are trying to clear out the Xbox One Assassin's Creed holiday bundle, and this is one of the better deals we've seen.
---
It's not quite at Black Friday levels, but $270 for the Wii U Deluxe with Mario 3D World is still a good deal, and you need it to play Smash. Tax-free for most. [ Wii U Deluxe Mario 3D World Bundle, $270]
---
It's unusual to see a movie drop to $6 on Blu-ray so quickly, let alone one that led all films in Oscar nominations. It's listed as temporarily out of stock, but you can still lock in your order at this price, and Amazon will ship it to you once they get more. [The Grand Budapest Hotel, $6]
---
One can never have too many Lightning cables. [MFi Certified Lightning Cable, $8 with promo code GMTIC2DR]
---
Our best space heater vote is a dead heat, get in there and support your favorite.
---
We're in the process of ramping up our Facebook content, and we'd love if you liked us and told your friends to do the same. We promise to put things that you actually want to see in your news feed.
---
Media
---
Movies & TV
Books & Magazines
Apps
Gaming
---
Tech
---
Storage
Headphones
Home Theater
Phones and Tablets
---
Inventory
---
Find more deals over on Kinja Deals
Home
Kitchen
---
We work together with you to find the best products and the best deals on them, click here to learn more. We operate independently of Editorial and Advertising, and if you take advantage of an item we cover, we may get a small share of the sale. We want your feedback.