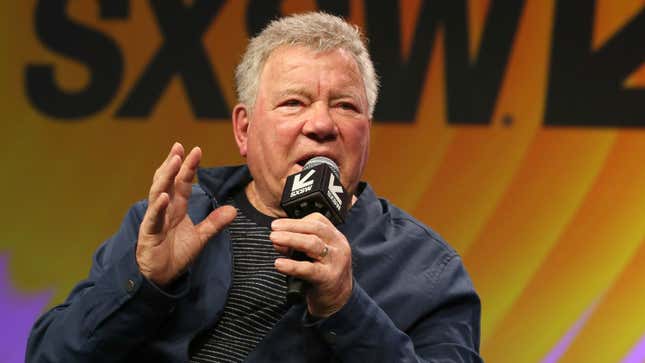 A group of celebrities will soon have to leave the cozy confines of Earth and get transported to another world, competing against one another in a simulated Martian environment for a new reality TV series.
Astronomers Could Soon Get Warnings When SpaceX Satellites Threaten Their View
The show, Stars on Mars, is in the works by Fremantle-owned Eureka Productions and is set to premiere in June on Fox, according to Variety. Star Trek's William Shatner will be at the helm of the new series, acting as mission control for the show's contestants as they navigate their way through a Mars habitat.
The celebrity contestants will be forced to live in a Martian colony that simulates what life would be like for humans on the Red Planet. A distant dream, perhaps, but one that has dominated the conversation around humanity's spacefaring future and become an obsession for the likes of SpaceX CEO Elon Musk.

We may not get to Mars anytime soon, but at least for now we can send a group of our most incompetent representatives to a Mars-like environment. The celebrities, whose identities haven't been revealed yet, will compete in a series of challenges and have to make alliances with each other in an effort to become the last person standing on fake Martian ground, according to the Hollywood Reporter. The reality show sounds like Survivor, but Survivor on Mars.
It's a good thing Shatner will be taking the lead in guiding the Stars on Mars contestants, as the actor has had some experience with spaceflight. In October 2021, Shatner flew to space aboard a capsule from Jeff Bezos' private space company Blue Origin. But Shatner hasn't been the same since he got back, revealing in his memoir, titled Boldly Go, that his quick 10-minute trip filled him with great sadness. "I saw a cold, dark, black emptiness. It was unlike any blackness you can see or feel on Earth. It was deep, enveloping, all-encompassing," Shatner wrote in his memoir.
Err, hopefully the actor won't pass on his existential thoughts to the celebrity contestants in the simulated Mars colony, otherwise this is going to turn out to be a completely different show than Fox is expecting.
NASA has its own Mars mock-up at the NASA Johnson Space Center in Houston. Called Mars Dune Alpha, the simulation is designed to host volunteers who will live in the simulated Martian habitat for a year as part of the space agency's research into the possibility of humans living on Mars.
For more spaceflight in your life, follow us on Twitter and bookmark Gizmodo's dedicated Spaceflight page.