When you see a character move in ways that seem impossible, it's natural to assume, no, that's a special effect, right? CGI or something. No one can do that. Turns out, Pretzel Jack, or at least the actor who plays him, definitely can.
Pretzel Jack, played by Troy James, is one of the creepiest parts of the new season of Channel Zero, subtitled The Dream Door. He's a clown, which, scary enough, but he can move his body in ways that seem, ah, unnatural. Turns out, James is just a brilliant contortionist.

"Troy James is a pretty extraordinary physical performer," showrunner Nick Antosca told Entertainment Weekly. "We actually wrote the season around him after we saw what he could do in a small role in Butcher's Block [the previous installment of the show]. None of it is CG. Pretzel Jack's contortions and bizarre behavior are entirely the performance of Troy James."

Talent can compete pretty strongly with on-screen magic, apparently. "Basically, on set, the script would say, 'He does a bizarre contortionist dance,' and Troy would say, 'Well, I'm going to try this,' or 'I'm going to try that,' and he would do these incredible twisting things with his body. We'd all be standing there going, 'Oh my God!' There's a whole bunch on the cutting room floor, because we couldn't use all of it, of just him doing these crazy pretzel contortions with himself. I have to assure everybody that it's not CGI because there are moments when his behavior is so bonkers, you'd think a person couldn't really do that — but he did. It's crazy," Antosca explained.

The fact that this was all done in person makes it somehow scarier, to me. What a creepy marvel.

G/O Media may get a commission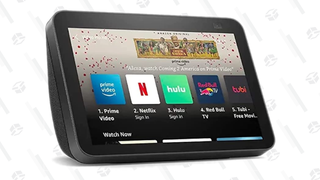 Channel Zero: The Dream Door is airing nightly on Syfy, from now through Halloween.