But she definitely has some words about it.

Yesterday, news broke that the upcoming Marvel comic The Vision, written by Chelsea Cain, was cancelled well into production, for reasons that remain unclear. In a new interview with Entertainment Weekly, Cain opened up about the decision from her perspective, offering new insight into what her book would have been liked along with the rough working conditions facing creators in comics.
"I was offered the gig in July of 2016," Cain said. "At that point, Mockingbird had been (stealth) canceled after issue #3, but I had been asked not to make that public until the eighth issue had been published. They were allowing us to finish out the arc. Tom King's marvelous run on Vision was still coming out, but he had left Marvel and signed an exclusive with DC, so Marvel obviously knew it was wrapping up. I was asked to tell a Vision story that focused on Vision and his teenage daughter, Viv, who, at the time, had just been introduced into the Marvel Universe. I pitched the idea of my husband co-writing it with me. Marc is a writer, and we once co-wrote an illustrated book called Does This Cape Make Me Look Fat? Pop Psychology for Superheroes. Also, we have a teenage daughter. So Marc brings a unique authority to the subject matter."
After that decision was made, Cain explained, work began in earnest. "By September of 2017 — one year ago — we submitted the script for #1. By December we had an artist attached, the amazing Aud Koch, and editorial feedback, and we were off to the races. We've been working solidly for the last six months. The first three issues are inked. The first issue is colored. They all have amazing cover art. The series was announced in July. And officially solicited about a month ago. They put it in Previews. They advertised it. Why go through all of that, just to pull the plug?"
With no clear answers as to why the book was cancelled—according to the Hollywood Reporter, Marvel wanted to take the characters involved in a different direction, but it's unclear what direction that is and Marvel has as of press time not offered comment—Cain moves to talk about the frustration of the decision and what it suggests about the comics industry at large.
"The comic book industry is made up of freelancers. I think a lot of readers don't understand the extent of that reality," Cain said. "Certainly any comic book by Marvel or DC, those are the work of freelancers: Colorists, inkers, pencilers, letterers, cover artists, and writers. The editors work for the company. The freelancers don't. Maybe some of them have exclusive contracts, which means that they get a little bit more money per page, and absolutely no benefits or protections, plus they don't get to work for anyone else — but basically, every comic you pick up has been made by someone without health insurance. But these freelancers are still expected to behave like employees. They are told what to say and when to say it… I've said it before, but this whole industry is a class-action lawsuit waiting to happen. It's astonishing."
G/O Media may get a commission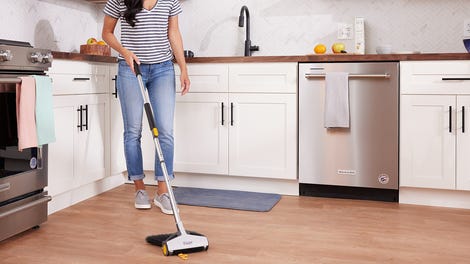 BOGO 50% Off
Flippr - BOGO 50% Off
So, for instance, when freelancers have to deal with harassment, such as Cain faced for her run on Mockingbird, there are no institutional protections or supports to assist her. And if a publisher wants to cut ties with you, there isn't much you can do about it.
The whole interview is a scorcher, and it's well worth reading in its entirety. Cain's willingness to talk openly about her experience is admirable, and her book, which was set to follow up on Tom King's run and star the Vision and his daughter, Viv, had an interesting premise. Cain described it as "a father-daughter story" about "the efforts of an emotionally-stunted man to reach out and connect with his 'woke' teenager daughter."
She added: "If that isn't a metaphor for the comic book business, I don't know what is."