Chet Faliszek, lead designer on Valve Software's Left 4 Dead, talks zombies, video games, and the end of the world in this rerun of episode one of The Geek's Guide to the Galaxy.
The Geek's Guide to the Galaxy is hosted by John Joseph Adams and David Barr Kirtley.
You can download the MP3 for this episode here, subscribe to The Geek's Guide to the Galaxy podcast feed here, and browse other episodes here.
Read on for this episode's fabulous SHOW NOTES! (Note: Show note time signatures may me slightly off, as the show was re-edited prior to this rebroadcast—it's the director's cut!)
G/O Media may get a commission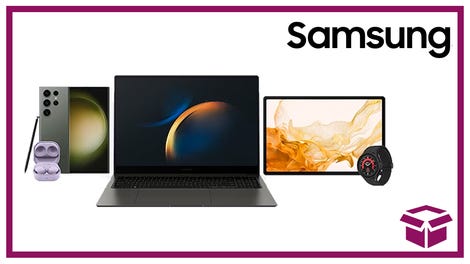 24 hour deals
Discover Samsung - Daily Deal
00:00 Introduction
00:38 Dave and John introduce the show
John and Dave talk about Valve Software
01:05 Valve Software, background and their ground-breaking games Half-Life and Portal.
06:20 Valve's emphasis on strong writing, and the role of science fiction author Mark Laidlaw in creating Half-Life.
07:09 The third-party mod community's role in Valve's development.
Interview - Chet Faliszek, lead writer on Left for Dead and Left For Dead 2
9:13 John and Dave introduce Chet Faliszek
10:15 Chet talks about getting his start in writing for websites and magazines and the leap to Valve software.
10:58 The writing process at Valve
11:46 Origins of Left 4 Dead at Turtle Rock Studios, Chet's role in its development, and what the true group effort that it is to create a Valve game.
14:04 Chet weighs in which games he thinks have the strongest writing outside of Valve: Call of Duty: Modern Warfare, Grand Theft Auto 4, Bioshock.
15:42 Advice for listeners who want to write for video games.
17:38 The introduction of melee weapons into Left 4 Dead 2, and we learn that the sound of the Frying Pan is the ring-tone on Chet's phone.
19:31 Valve and Hollywood
20:53 Will we ever hear the end of any of Ellis's stories?
21:30 How developers' experiences in the south eastern United States helped to shape the setting and the story.
23:04 Researching Left 4 Dead 2
23:58 Deciding how challenging to make Left 4 Dead
25:44 The Special Infected, the origins of the virus, and the future of Left 4 Dead
29:19 How Chet would survive the zombie apocalypse.
30:22 Dave and John speculate about rumors of Portal 2
31:57 Dave talks about a prankster who called into a radio show pretending to be Gordon Freeman, the main character from Half-Life.
33:35 Dave and John discuss the all-important question of their contingency plans for surviving the Zombie Apocalypse, including comparison of the relative merits of hand gun vs. shot gun.
39:22 Versus Mode tales - John talks about playing Survivors vs. Infected against Stephen Gould, author of Jumper, and about online play as networking.
John and Dave talk about their early exposure, influences and favorites in post-apocalyptic media
42:00 John and Dave continue the discussion started with Chet about which games they think feature good writing. John brings up Fallout and Ultima 4
44:02 Dave talks about Wasteland, and a moment that changed his expectations of story-telling in video games.
46:56 Ron Gilbert's Secret of Monkey Island, its connections to the Pirates of the Carribean franchise, and both of their debt to On Stranger Tides, by Tim Powers.
47:20 Dave talks about Richard Garrett's Ultima series, and his ground-breaking turn in Ultima 4, in which character counts.
49:17 John and Dave discuss Cormac McCarthy's The Road, now a major motion picture.
52:35 Dave and John discuss their favorite pieces of post-apocalyptic fiction: Day of the Triffids, Earth Abides, A Boy and His Dog. John talks about A Canticle for Liebowitz, by Walter M. Miller, Jr. and its place as the definitive post-apocalyptic novel, and Dave tells us why he admires Adam and No Eve, by Alfred Bester.
Thanks for listening!
John Joseph Adams is an anthologist, a writer, and a geek. He is the bestselling editor of the anthologies By Blood We Live, Federations, The Improbable Adventures of Sherlock Holmes, The Living Dead (a World Fantasy Award finalist), Seeds of Change, andWastelands: Stories of the Apocalypse. His most recent books are The Living Dead 2 and The Way of the Wizard, and he is currently assembling several other anthologies, including Brave New Worlds and The Mad Scientist's Guide to World Domination. Barnes & Noble.com named him "the reigning king of the anthology world," and his books have been named to numerous best of the year lists. In addition to his anthology work, he worked for more than eight years as an editor at The Magazine of Fantasy & Science Fiction,and is currently the editor of Lightspeed Magazine and Fantasy Magazine.
David Barr Kirtley has published fiction in magazines such as Realms of Fantasy, Weird Tales, Lightspeed,Intergalactic Medicine Show, On Spec, and Cicada, and in anthologies such as New Voices in Science Fiction,Fantasy: The Best of the Year, and The Dragon Done It. Recently he's contributed stories to several of John's anthologies, including The Living Dead, The Living Dead 2, and The Way of the Wizard. He's attended numerous writing workshops, including Clarion, Odyssey, Viable Paradise, James Gunn's Center for the Study of Science Fiction, and Orson Scott Card's Writers Bootcamp, and he holds an MFA in screenwriting and fiction from the University of Southern California. He also teaches regularly at Alpha, a Pittsburgh-area science fiction workshop for young writers. He lives in New York.
Friend us on Facebook and follow us on Twitter. If you enjoy the show, please consider making a donation via PayPal.