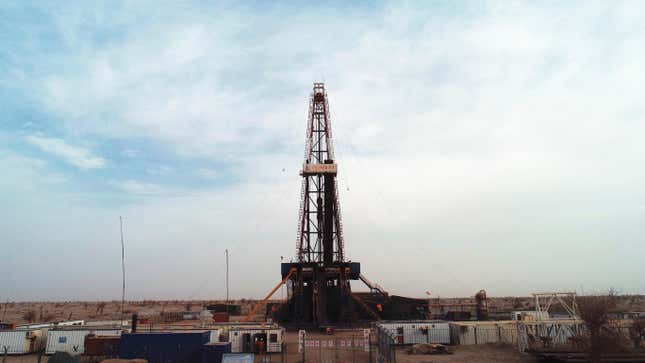 China has seemingly set off on a journey into the center of the earth. This week the country has begun digging what will eventually become the deepest hole in China's history to test drilling technology and further understand the Earth's underground structure, Bloomberg reported.
Generating Video Via Text? | Future Tech
Once completed, the hole is going to be 10,000 meters (32,808 feet). That's a little more than 6 miles deep into the earth. The drilling is expected to occur for 457 days and is being led by the China National Petroleum Corp, according to Bloomberg. It will cut through 10 continental strata, which are the various layers of the earth. Once completed it will reach down into the cretaceous system; rocks in that layer of the year date back more than 140 million years.

The drilling project is part of the country's efforts to expand underground research. During a speech back in 2021, Chinese President Xi Jinping urged scientists to break new barriers in different areas including deep earth exploration, China Daily reported. And earlier this year, Chinese officials vowed to strategically build up the country's energy supplies and mineral resources. "China will launch a new round of domestic prospecting operations, focusing on strategic bulk minerals that are in short supply," Wang Guanghua, the minister of Natural Resources, said in an interview with Xinhua News Agency, according to Bloomberg.

This could explain why the project is based in the Xinjiang region, which is the largest oil and gas-producing area in the country, the South China Morning Post reported. China also has some of the world's largest crude iron ore reserves in the world, which is widely used in steelmaking. This could present another energy opportunity for the country as it tests drilling technology.

Countries around the world are increasingly focused on mineral exploration. Rare earth minerals and other elements found deep underground are necessary for new clean technology. They're often used to make batteries for electric vehicles, for energy storage, and for wind turbines. And as the market for more clean energy continues to increase, nations and businesses will need steady access to those minerals to keep up with demand.
Want more climate and environment stories? Check out Earther's guides to decarbonizing your home, divesting from fossil fuels, packing a disaster go bag, and overcoming climate dread. And don't miss our coverage of the latest IPCC climate report, the future of carbon dioxide removal, and the un-greenwashed facts on bioplastics and plastic recycling.