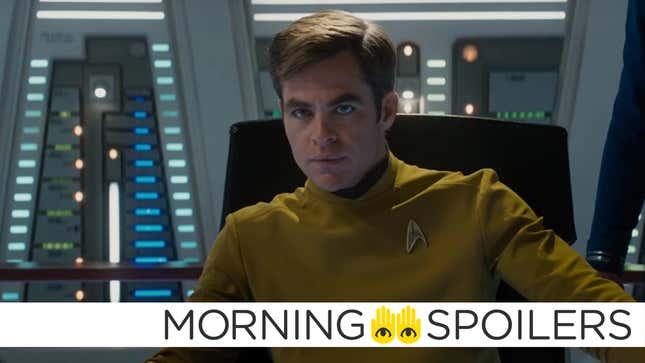 Kevin Feige wants more female-led Marvel movies. Get a few more looks at Halloween, Venom, and The Predator. Plus, behind the scenes on The Nun, more teases for The Walking Dead's return, and Netflix asks: Whither Daredevil's Matt Murdock. Engage, Spoilers!




Star Trek 4
During a red carpet interview at the Toronto International Film Festival, Chris Pine stated he's still waiting for Paramount to call him back, in the wake of recent reports that the actor may not return as Captain Kirk:
I don't know, I mean I'd love to be involved, and we'll see what happens and I'll await the phone call. Until then, I look forward to it.
---
The MCU
Speaking with Entertainment Weekly, Kevin Feige revealed Marvel plans to announce more female-led superhero movies in the future, after being a mere 21 movies into its cinematic universe.
With [Ant-Man and The Wasp] and now with Captain Marvel and many movies to be announced in the near future, I'm anxious for the time where it's not a novelty that there is a female-led superhero movie, but it is a norm. And it is less a story of, 'Oh, look, a female hero,' and it's more a story of, 'Oh, what's this about? Who's this character? I'm excited to see that.' And I think we can get there.
---
Larry
Gillian Jacobs is set to star alongside child actor Azhy Robertson in Larry, Amblin's upcoming monster movie from writer/director Jacob Chase. Described as a "two-hander" in the vein of The Sixth Sense, Creep, or Wes Craven's similar Shocker, the film concerns "a troubled young boy and his family" becoming "the target of a monster who materialized through electronic devices such as smartphones and tablets." [THR]
---
Mattel Films
Deadline reports the toy company Mattel has launched its own film division. Producer Robbie Brenner (The Dallas Buyer's Club) has been appointed executive producer and will develop films based on popular Mattel brands including Barbie, Hot Wheels and Thomas the Tank Engine.
---
Zombieland 2
Geeks World Wide reports Zombieland 2 begins filming January 28 in Atlanta, Georgia.
---
Halloween
The film's international trailer contains footage not seen in the domestic — including an unmasked Michael Myers from behind.
John Carpenter, Jamie Lee Curtis, and David Gordon Green sit down to discuss Halloween 2018 in a new featurette.
---
Venom
The latest TV spot emphasizes the importance of cooperating with your alien symbiote.
---
The Predator
Meet the mercenaries McKenna, Nebraska, Coyle, Lynch, Nettles, and Baxley in the latest TV spot. Then wonder who will be the first to die, and who will be the first to get their own Funko Pop figurine.
---
The Nun
Demián Bichir and Taissa Farmiga discuss nun-busting in an interview with Syfy Wire.


---
The Boat
A man on a small, private boat learns he may have picked up a supernatural stowaway from a passing ghost ship in the trailer for...The Boat.
---
The Wind

Meanwhile, in a completely unrelated but eerily similar indie film premise, an American frontierswoman must decide if she's up against prairie demons, or if it's merely the wind, in the trailer for...The Wind. 
---
The Walking Dead
AMC (via Screen Rant) has released a new poster, synopsis and TV spot for season nine.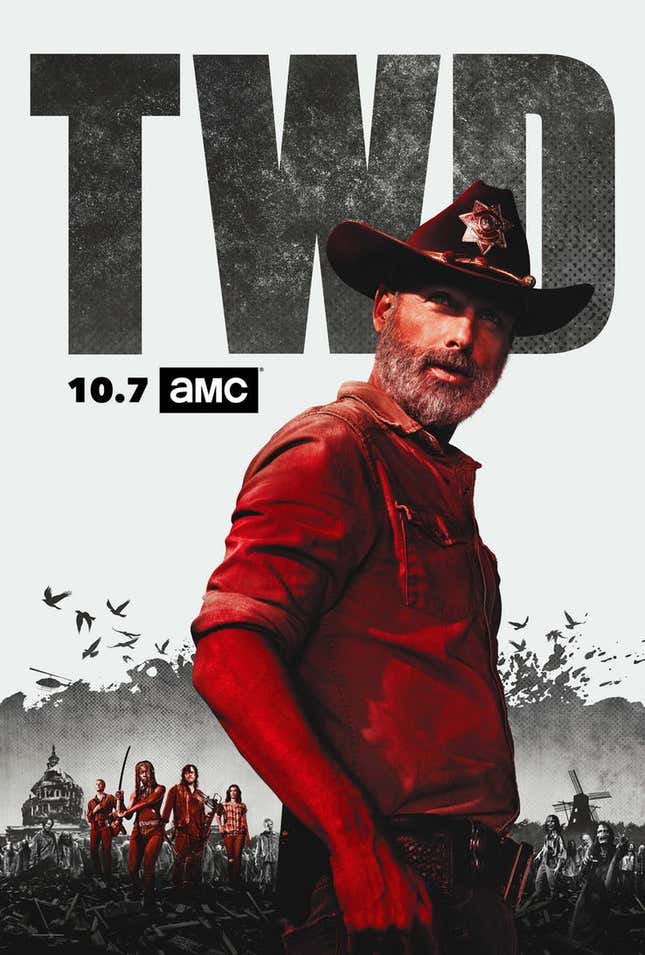 Last season brought the culmination of "All Out War," which pitted Rick Grimes and his group of survivors against the Saviors and their cunning leader, Negan. With Negan's life in his hands, Rick had a character-defining choice in front of him. By making the unilateral decision to spare Negan, Rick upheld the values his late son, Carl, championed in order to build for the future, but created conflict within his group.

Now, we see our survivors a year and a half after the end of the war, rebuilding civilization under Rick's steadfast leadership. It is a time of relative peace among the communities as they work together, looking to the past to forge the future, but the world they knew is rapidly changing as man-made structures continue to degrade, and nature takes over, changing the landscape and creating new challenges for our survivors.

As time passes, the communities confront unexpected obstacles, danger, and of course, walkers, but nothing quite prepares them for the formidable force they are about to encounter, which threatens the very idea of civilization that our survivors have worked so hard to build.
---
Daredevil
Finally, a new teaser/motion poster for season three of Daredevil asks, "Where's Matt Murdock?" Psst, he's in a convent with some nuns.
---
Banner art by Jim Cooke.