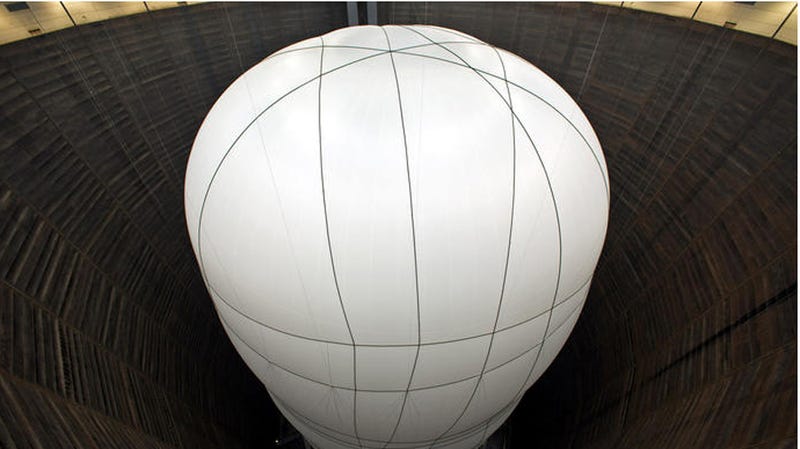 The artists Christo and Jeanne-Claude have been staging large-scale site-specific art installations for decades. These projects have ranged from a red curtain spanning a Colorado valley, entire buildings literally wrapped in fabric, and thousands of orange gates lining Central Park in NYC. They are all grandiose—and Christo's latest effort doesn't disappoint.
Big Air Package, Christo's first project since Jeanne-Claude passed away in 2009, is essentially a huge ballon. It is being billed as the largest frameless inflated envelope (read—balloon) ever, and stands almost 300 feet tall inside an industrial gas-tank-turned-exhibition-space, the Gasometer Oberhausen in Germany.
Images by Wolfgang Volz © 2013 Christo


The structure—kept inflated by two air fans—is made of polyester fabric and tethered to the floor with 4,500 meters of rope. Visitors can actually step inside through airlocks to experience the vast interior bathed in diffuse light from the Gasometer's skylights and additional projectors.
Big Air Package is on view from March 16th to December 30, 2013. Don't you just want to take a nap in there? [Christojeanclaude.net via This Is Colossal]