Now that we've all got Doctor Who out our system, it's time to prepare for new beginnings for NBC's Chuck, as well as some BSG that you might've missed if you didn't get the DVD.

Monday
From 4pm through to a new episode ("Boomerang Bullet" - I'm going to go out on a limb and say that one's probably going to be busted) at 9pm, Discovery's Mythbusters plan to provide an entertaining and educational alternative to NBC's Heroes, which returns with a double bill at 8pm called "Upon This Rock/Let It Bleed":
As Claire becomes immersed in the world of the carnival, she becomes increasingly suspicious of Samuel s motives; Hiro goes on a mission to rescue one of his own; H.R.G. recruits Matt to help him take down Samuel.
Tuesday
ABC may be threatening to cancel the show and dump as many episodes on viewers as possible, but we don't care. All we know is that we're getting two brand new episodes of the wonderful Better Off Ted at 8:30 and 9:30 tonight.
G/O Media may get a commission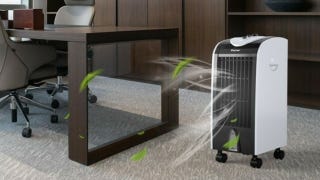 Save $10
Evaporative Portable Air Conditioner Cooler with Filter Knob
Wednesday
Because it's such a quiet day (Which is to say, not too much worth bothering about today), I'm going to take this opportunity to point out that IFC starts running British sitcom The IT Crowd each weekday night at 11pm this week (and re-running them all this Sunday morning at 9am). It's not exactly io9 material, but... well, it's close enough. Watch watch watch.
Thursday
In preparation for the start of the show's third season on Sunday evening, Syfy are running a mini-Chuck marathon, showing episodes from the show's second season from 5pm until midnight. If you've not checked the show out before, then now would be a good time to start.
Friday
Ah, this is more like it. Syfy makes an early play for your eyeballs with a Stargate Atlantis marathon from 8am through 3pm, before following up with a Sanctuary marathon between 7pm and 10. In case you'd rather see something that takes itself a little more seriously - only a little, mind you - then Cartoon Network has a brand new Batman: The Brave And The Bold at 8pm, and it's called "Aquaman's Outrageous Adventure!", so we're already setting our TiVos.
Surreally after last week's double bill, Star Wars: The Clone Wars is back on re-runs until the end of the month (But Fringe fans who don't normally watch it, tune in: It's the "Brain Invaders" episode, which may ring bells if you've seen "Snakehead"), but that just means less conflict for the return of Dollhouse at 9pm, with "Getting Closer," the show's third-last episode:
Topher races to reconstruct Echo's original personality and memories when Adelle realizes they are the key to adverting a devastating future. Meanwhile, Echo and Bennett's shared past and the identity of the Rossum's Corpration's mysterious leader are revealed.
Saturday
Those who were enamored with the first episode of Demons last week after the emotional final Doctor Who are advised to tune in for episode two, "The Whole Enchilada," today at 9pm, to see how Luke's first mission as demon hunter goes.
Sunday
For some reason, the Discovery Channel goes UFO crazy today, with Are We Alone? at 1pm, closely followed at 3pm by Nazi UFO Conspiracy. Yes, that's really what it's called. Nazi UFO Conspiracy. They're also having an apocalyptic evening, with Apocalypse How exploring end of the world theories at 6 and 7pm, then Cosmic Collisions looking at things that could crash into the Earth at 8, before 2012 Apocalypse flips the scientific finger at Roland Emmerich at 10.
Elsewhere, there's lots of good stuff, including the complete "The End of Time" Doctor Who story on BBC America at 5pm and, for those who didn't pick up the DVD, Battlestar Galactica: The Plan on Syfy at 9pm. But our pick of the week, and the thing we're pinning a lot of hope on, is the two-hour return of Chuck on NBC at 9pm, offering up "Chuck Vs. The Pink Slip" and "Chuck Vs. The Three Words." Plot synopsis ahoy!:
Chuck flunks out of spy school and loses Sarah; Morgan tries to help Chuck get over Sarah; Chuck tries to talk to Sarah about their relationship.

Don't let us down, Charles Carmichael. We're relying on you.