Chuck Palahniuk, author of Fight Club and new novel Damned, joins us to discuss chatting with telemarketers, being appalled at Hollywood hypocrisy, and writing stories that make people faint dead away.
Geek's Guide to the Galaxy is hosted by John Joseph Adams and David Barr Kirtley.
You can download the MP3 for this episode here, subscribe to The Geek's Guide to the Galaxy podcast feed here, and browse other episodes here.
This episode includes:
Part 1: Interview with Chuck Palahniuk (1:20)
Topics covered: Public appearances and tiaras, "Guts" makes people faint, school sucks, the ideas behind "Romance," Hell and Halloween, telemarketing in "Cold Calling" and Damned, Nickelodeon?!, Ray Bradbury and Stephen King, Clarion West, transgressive fiction and 9/11, writing lessons, workshop experiences, Hollywood hypocrisy, endings of the Fight Club and Choke movies, controversial line in Fight Club, jokes in "The Knock Knock," oncologist anecdote, upcoming work
Part 2: Guest Geek Grady Hendrix joins us to discuss Satan (26:18)
Topics covered: Early memories of Satan, Satan in the Bible, Dante's Inferno, why does Satan want souls?, why fight God if he's omnipotent?, Paradise Lost, Rosemary's Baby & The Exorcist, Jack Chick, resistance to Judeo-Christian ideas, is manifesting a good devil strategy?, Neil Gaiman's Sandman, why is so much geography named for the devil?, Tales from the Crypt: Demon Night, the South Park devil, The Screwtape Letters, Tim Pratt's Sympathy for the Devil anthology, Needful Things, Joe Hill's Horns, King James and demonology, Stephen Brust's To Reign in Hell, Grady Hendrix talks about his first novel Satan Loves You
G/O Media may get a commission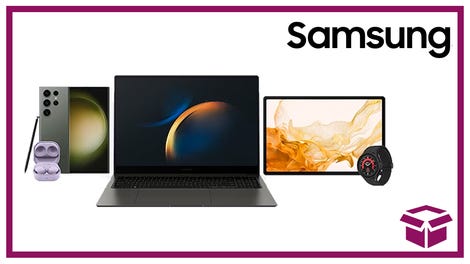 24 hour deals
Discover Samsung - Daily Deal
Thanks for listening!
John Joseph Adams is an anthologist, a writer, and a geek. He is the bestselling editor of the anthologies Brave New Worlds, Wastelands, The Living Dead, The Living Dead 2, By Blood We Live, Federations, The Way of the Wizard, and The Improbable Adventures of Sherlock Holmes. Forthcoming anthologies include Under the Moons of Mars: New Adventures on Barsoom (Simon & Schuster, 2012), Armored (Baen, 2012), and The Mad Scientist's Guide to World Domination (Tor, 2012). He is a 2011 Hugo Award-nominee for Best Editor (Short Form), his books have been nominated for the World Fantasy Award, and he has been called "the reigning king of the anthology world" by Barnes & Noble.com. He is also the editor of Lightspeed Magazine and Fantasy Magazine. Find him on Twitter @johnjosephadams.
David Barr Kirtley has published fiction in magazines such as Realms of Fantasy, Weird Tales, Lightspeed,Intergalactic Medicine Show, On Spec, and Cicada, and in anthologies such as New Voices in Science Fiction,Fantasy: The Best of the Year, and The Dragon Done It. Recently he's contributed stories to several of John's anthologies, including The Living Dead, The Living Dead 2, and The Way of the Wizard. He's attended numerous writing workshops, including Clarion, Odyssey, Viable Paradise, James Gunn's Center for the Study of Science Fiction, and Orson Scott Card's Writers Bootcamp, and he holds an MFA in screenwriting and fiction from the University of Southern California. He also teaches regularly at Alpha, a Pittsburgh-area science fiction workshop for young writers. He lives in New York.
Friend us on Facebook and follow us on Twitter. If you enjoy the show, please consider making a donation via PayPal and/or signing up for a free trial with our sponsor, Audible.com.