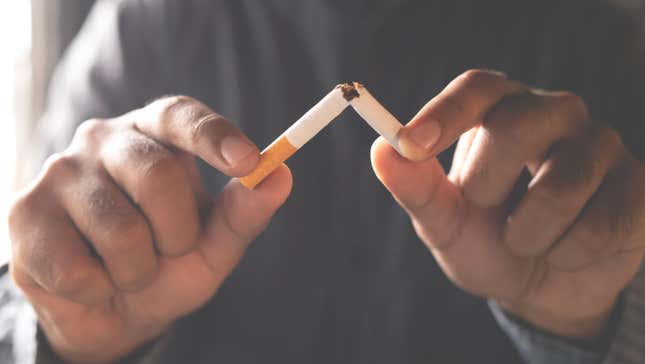 U.S. adults continue to swap smoke for clouds. Rates of cigarette use among over 18 Americans dropped to a new low last year, as just about one in nine adults now identify as smokers, according to preliminary data from the Centers for Disease Control and Prevention. That's compared to more than one in eight in 2018 and more than one in seven in 2019.

The Boogeyman's Sophie Thatcher Reveals What Draws Her to Dark Characters | io9 Interview
The popularity of smoking has been generally on the decline for decades, since its peak in the 1960s. But the new rate signifies a historic drop in cigarette use. An estimated 11.1% of people in the U.S. now smoke, according to the most recent CDC stats. Sixty years ago, more than 40% did. As preliminary rates, the exact numbers are liable to change, but the trend remains clear. Cigarettes have lost their cool.
The new numbers come as part of the CDC's National Health Interview Survey, which covers everything from dental visits to medication use to work sick days. The agency collected questionnaire responses from 27,654 adults across demographic groups in 2022. And, at least after an initial assessment, the smoking portion of the survey has yielded mostly good news for Americans' health, with one big caveat.
Though smoking rates appear to have fallen off, vape use is climbing. 6% of surveyed U.S. adults reported using electronic cigarettes in 2022—that's more than one in 17 people, up from around one in 23 in 2019. Among youth, vaping is even more popular. About 14% of high schoolers (and more than 3% of middle schoolers) reported using e-cigs in 2022, despite the passage of a 2019 federal law that raised the age to purchase tobacco products from 18 to 21.
Smoking has long been a leading cause of preventable death in the United States. It is responsible for an estimated one-fifth of all U.S. deaths, according to the CDC. In the mid-2010s, nearly half a million Americans were dying prematurely every year because of cigarette use. Studies have shown, time and time again, that smokers are at an increased risk of heart disease, heart attack, stroke, lung cancer, and many other types of cancers. Smoking can also contribute to immune system problems, vision loss, gum disease, skin conditions—the list goes on.
TLDR: Smoking is bad for you. And it is good for population health that people seem to be reaching for cigarettes less and less. But the growing prevalence of e-cigs remains a concern among health experts.
"E-cigarettes are not safe for youth, young adults, and pregnant women, as well as adults who do not currently use tobacco products," writes the CDC on its website. When used as a smoking cessation tools, vapes may have their utility and place—though not all studies agree on this.
But whether or not e-cigs are helpful for those trying to leave cigarettes behind, clear science is beginning to emerge demonstrating the ill effects that inhaling vape juice can have on health. E-cigs also damage lungs, and at least two long-term studies have shown that vaping hurts cardiac function and can contribute to increased risk of heart disease. And, as with smoking, vaping can harm those around you through second-hand exposure.
"I always hold no stigma or judgment when anyone wants to smoke a traditional cigarette or use electronic cigarettes, but as a lung doctor, I will always promote only air to come into the lungs," Panagis Galiatsatos, a pulmonary physician and spokesperson for the American Lung Association, told CNN. Thankfully for the U.S. healthcare system, even with the vape increase, more adults overall do seem to be leaning into the air-only lifestyle.