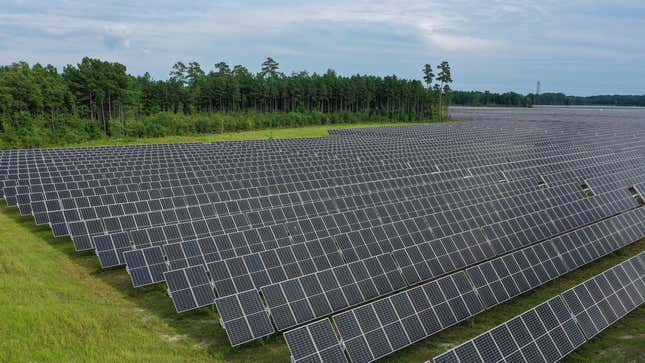 Several grassroots groups opposed to solar projects in local areas may have one thing in common: a Virginia-based group with powerful GOP connections advising them on strategy. National Public Radio and environmental news collective Floodlight published an expose Friday on a group called Citizens for Responsible Solar, a nonprofit founded in 2019, and its substantial influence in fighting renewable energy across the country—and connections to polluters and prominent climate deniers.

The group, according to its website, says its purpose is to "advocate for responsible solar policies that balance the demand for renewable energy with the interests of counties and their residents." But as NPR reports, the founder of Citizens for Responsible Solar, Susan Ralston, has a long resume in GOP politics and relationships with conservative heavy-hitters—she worked for both George W. Bush and Karl Rove. For her anti-solar groups work, Ralston has hired staff members and consultants with similarly strong ties to GOP political figures and dark money groups, including Americans for Prosperity and the American Legislative Exchange Council.

And it looks like Ralston was being paid well by parties with a vested interest in not seeing renewable energy projects succeed. According to NPR, her consulting firm, SBR Enterprises Inc, received almost $300,000 between 2018 and 2020 from the Paul E. Singer Foundation, the charitable giving outlet of wealthy venture capitalist Paul Singer. Singer's investment firm is the largest shareholder of coal company Peabody Energy; Singer has also funneled money towards prominent climate denier Bjorn Lomborg's think tank. (In 2019, Ralston said Citizens for Responsible Solar had raised no money from fossil fuel interests; Ralston would not identify the group's current funders for NPR and Floodlight.)
Ralston told NPR and Floodlight in an email that the group isn't opposed to all solar projects, and thinks the technology belongs on "industrial-zoned land, marginal or contaminated land, along highways, and on commercial and residential rooftops" rather than farmland. She also said that the group works on a volunteer basis to help other grassroots activists. We reached out to Citizens for Responsible Solar for comment, and will update this piece if the group and/or Ralston gets back to us.
While Ralston founded the group to specifically fight against one project in Virginia, her influence has since expanded across the country. As the NPR report lays out, Ralston has directly spoken to anti-solar workers in various states and helped to connect them with each other and other anti-renewable groups. On the Citizens for Responsible Solar's website, it proudly advertises testimonials from people fighting solar projects across the country thanking the group for its help.
Some of the early advisors of this anti-solar group point to an interest in spreading misinformation about renewable energy projects. NPR reported that Ralston sought advice from well-known renewable energy critic John Droz when setting up the Citizens for Responsible Solar group. Droz is part of a Koch-backed climate denial group and has been a longtime opponent of offshore wind, drafting a memo in 2011 on PR tactics to push against renewables that was shared at a DC meeting of anti-renewable energy interests; the memo advised painting opposition to renewables as a "groundswell" of local opposition rather than a coordinated campaign. Echoes of misinformation detailed on Droz's website is presented on the Citizens for Responsible Solar site, including unsubstantiated claims that solar projects ruin the land they're cited on.
There's been increasing scrutiny in recent months on who, exactly, is paying for the pushback against renewable energy deployment. Earlier this month, the newsletters HEATED and Distilled documented some fossil fuel-funded forces at work in Michigan fighting against renewable energy there. Meanwhile, groups like the Texas Public Policy Foundation, which has long standing funding from polluters and connections with climate deniers, has been helping to drive a fight against offshore wind in—of all places—New England.
Groups like Citizens for Responsible Solar are spreading bad information about renewable energy at exactly the wrong time. A report issued last year by the Sabin Center for Climate Change Law at Columbia University found that there was an 18% increase in laws against local renewable energy installation between 2022 and 2021. As the U.S. gears up to make a massive effort to wean itself off fossil fuels, blockades like these—and disinformation spread by astroturf groups like Ralston's—could prove problematic to installing the amount of renewable energy we need.
"I think for years, there has been this sense that this is not all coincidence. That local groups are popping up in different places, saying the same things, using the same online campaign materials," Michael Burger, executive director of the Sabin Center, told NPR and Floodlight. "What that reflects is the unfortunate politicization of climate change, the politicization of energy, and, unfortunately, the political nature of the energy transition, which is really just a necessary response to an environmental reality."