Cartoon Network released a series preview of the new series Clarence ahead of its premiere on April 14. The show was created by former Adventure Time storyboard artist Skyler Page, and it kind of brings a similar level of weirdness to the table.
The show seems to be about the adventures of the titular character, Clarence, and his handful of friends. Unlike Adventure Time, Steven Universe (also from an AT alumni), and other shows with fantastical elements, Clarence seems to be grounded in a more mundane setting. But that doesn't mean the show won't be as weird or weirder than any of the others.
Watching it, I couldn't help but think Clarence acts like a young Peter Griffin would: with naivety, enthusiasm, and literally no forethought. In the episode above, Clarence decides to coax his friend Jeff into playing with him in the fast food restaurant's Fun Dungeon by stealing the stuffy kid's french fries. Of course, the idea followed a lengthy spiel on how serious Jeff was about no one touching his stuff (Jeff will kill you). And then as Clarence is chased by Jeff throughout the dungeon, he dangerously leads his friend on the top of the tubes where the two have a pseduo-lightsaber fight with the cylindrical foam used to pad the structure's steel bars. Also there's a brief romance sub-plot between Clarence's third friend Sumo and the toy that comes with the kid's meal.
It all makes for a pretty entertaining episode, though it won't have you doing more than chuckling. There are a few really good moments (like Clarence's take on the shoe cubbies), but it's clearly still got some growing to do. Clarence is quite obviously the Catalyst of Shenanigans, while Jeff is the Neurotic Straight Man. Sumo, I think, must be the Wild Card who will usually enable Clarence's antics, as he did in this episode. Clarence's mother, who didn't much screen time, will either be Completely Oblivious or Overly Trusting. I can't tell which yet.
On the whole, though, it looks like Clarence will make for a nice counterpart to many of Cartoon Network's other shows since it's grounded in reality. And if you'd like to check out the pilot, it's also on YouTube. But do you think Clarence can be another Adventure Time or Regular Show, though? Or will it just be another attempt to capture its predecessor's spirit?
G/O Media may get a commission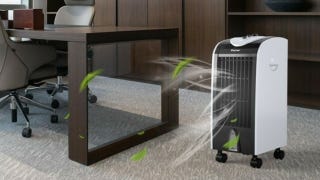 Save $10
Evaporative Portable Air Conditioner Cooler with Filter Knob