UTQIAĠVIK, ALASKA—On a crumbling heap of thousand-year-old garbage overlooking a leaden sea, Anne Jensen shakes her head disapprovingly. A gust of Arctic air whips her hair around her face as she scrutinizes the beige house perched sixty feet above us, atop an Iñupiat archaeological site that's fast eroding into the ocean.
"No wonder they wanted me to come out here," Jensen mutters under her breath. She starts scrambling up the jumbled heap of thawed permafrost and ancient wares to get a better view of the development above.
"They've gotta move that house," she says. "This can't keep going."
We're standing on the bank of Ukkuqsi, a site that Jensen, Utqiaġvik's resident archaeologist, has been monitoring since 1994, ever since the frozen body of a girl who died eight hundred years ago emerged from the bluffs. Iñupiat people have lived in and around Utqiaġvik (formerly Barrow) for more than a thousand years. Their history has accumulated in the ground beneath their feet, preserved in the same permafrost soils that underlie most of Alaska's North Slope.
But today, climate change is causing that history to vanish.
Temperatures across the Arctic are rising at twice the global average rate, causing sea ice to retreat rapidly. With less ice around to dampen their energy, waves are getting more powerful and battering coastlines for longer. Coastal archaeological sites like Ukkuqsi are getting chewed up.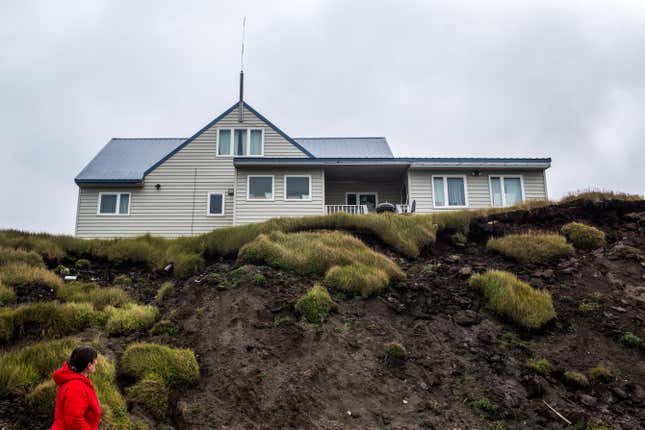 On top of the erosion, a warmer atmosphere is causing Alaska's permafrost to thaw. As that happens, exquisitely preserved remains—clothing, sod houses, scraps of food, human bodies—are starting to rot.
"Just like taking something out of the freezer," Jensen explains.
It's a story that's playing out across the entire world, from mountaintop glaciers to Caribbean islands. Over the last several decades, archaeologists have watched in alarm as history and heritage are erased by rising seas, melting ice, and worsening storms. Researchers liken the vanishing remains to books containing priceless knowledge about past cultures, past ecosystems, and past climates.
"We have buried in ground a library of Alexandria," Thomas McGovern, an archaeologist at Hunter College who has been involved in excavations across the North Atlantic, tells me. "And the library is burning."
As we walk along the bluff, Jensen pulls rubbish out of the blackened soil. Bits of bone and baleen, scraps of leather, shards of what are perhaps old stone tools. "It was a big, big village," she says, turning over a fragment of a whale skull. These were often used as a first step into a tunnel that led to a subterranean winter house. "A really happening place."
She adds, a bit regretfully, that all of the thawing, slumping, and erosion has caused the exposed materials to lose their archaeological context—their relationship to other objects, in both space and time, that allows researchers to learn something from them. "You can find some cool stuff, but there's not a lot you can do with it," she says.
After a few more minutes contemplating the ill-fated house atop the mound, we make our way downslope to the beach, past hefty black sandbags put in place by the local government to keep the erosion at bay. It's hard to tell if they are having an effect. The bluff has retreated about twenty feet in the past ten years; several hundred feet in the lifetimes of some of Utqiaġvik's elders. Every time there's a fall storm, it retreats even further, sandbags or no.
Back in her lab, at the Barrow Arctic Science Observatory a few miles north of town, Jensen shows me artifacts from Walakpa, a major coastal archaeological site about fifteen miles southwest of Utqiaġvik that's likely been occupied on and off for over 3,000 years. The site, which contains an extensive record of Birnik and Thule Eskimo cultures, started to erode about five years back. The oldest, deepest layers, which sit right along the coastline, are going fast.
"You can see entire houses getting ready to be eroded," Anna Prentiss, an archaeologist at the University of Montana, tells me. "Houses on top of houses. This amazing record is due to be washed away."

With funds from the Ukpeavik Iñupiat Corporation and the National Science Foundation, Jensen led major rescue digs at Walakpa in the summers of 2016 and 2017. The excavation, which involved over three dozen volunteers in the lab and field, turned up tent platforms, storage pits, and exquisitely-stratified middens, trash piles that act as frozen tissue archives. Jensen is hoping for at least one more summer of field work, so that she can finish excavating the bottom of a house that sits right on the erosion face. A corner of that house has already eroded, and the ground at the back is cracking away.
"It's very obvious that the site has been broken in half," Zac Petersen, who volunteered at Walakpa this past summer, tells me. He's worried the excavation area is just one bad storm away from vanishing. The weather he experienced while camped out on the coast over the summer was alarming.
"We had this huge storm and had to dig a massive trench around our tents," he says. "Waves were crashing up against the cliff, and pieces of dirt were coming down. A storm like that in the summer—that's definitely not something anyone in town remembers happening."
Charlotta Hillerdal, an archaeologist at the University of Aberdeen in Scotland, is in a similar race against time to excavate Nunalleq, a 15th-17th century pre-contact Yu'pik village site located on the edge of the Bering sea in southwest Alaska. Like Jensen's sites, Nunalleq is threatened by erosion—an average of nearly twenty feet since 2009—and by thawing permafrost.

Hillerdal estimates that the entire site has about a decade left. But the areas she is actively excavating, which are close to the erosion edge, "can disappear this winter," she says. There's a lot to lose.
"The preservation is extraordinary," Hillerdal tells me. "We have grass ropes, basketry, pretty much an amazing sample of Yu'pik pre contact life from this time period. The number of museum quality pieces is in the thousands."
The preservation at Nunalleq is so good that researchers are using the archaeological material for high-resolution molecular analyses, Hillerdal says. "We can do isotopic analysis of human hair to find out more about about past diets. We're doing DNA studies. From a scientific standpoint, it's unmeasured."
The frustration Hillerdal faces is one many archaeologists I spoke with identified: Just as technology is allowing them to answer new questions from the archaeological record, the record is slipping away.
McGovern has colleagues working in western Iceland who recently reconstructed the population dynamics of Atlantic cod from the 16th to the 20th century, using DNA isolated from bones found in abandoned fishing villages. Another pilot project used ancient DNA to successfully identify a half dozen marine mammals from archaeological remains in Iceland, Greenland, and the Faroes. These projects suggest ancient remains, paired with nascent molecular tools, can offer insight into animal populations long before industrial society. Such information could help inform conservation strategies today.

Insights from the archaeological record could even help us tackle human-caused climate change. After all, as George Edwardson, president of the Iñupiat Community of the North Slope reminded me, the people of the Arctic have been adapting to climatic changes for thousands of years, ever since their ancestors first migrated into Alaska across the Bering Land Bridge. "There's a lot we can learn from the past about environmental resilience," Jensen says.
"It's a tragic irony that just as we are cranking up our game, and contributing to global change research, our data sets are being destroyed," McGovern adds.

It's not just in the Arctic, either: A study published recently in PLOS One identified over 13,000 archaeological heritage sites in the Southeastern United States that'll be inundated by three feet of sea level rise, an amount that could occur by the end of the century. Co-author David Anderson from the University of Tennessee, Knoxville emphasized that the estimated number of at-risk sites is probably conservative.
"The recorded archaeological sites are only a fraction of what's out there," he says, adding that a "vast number" aren't yet on the National Register. "This is probably the biggest challenge archaeology as a profession has faced."
According to McGovern, the profession needs a call to action. Archaeology needs people out in the field, surveying, documenting, and excavating as much as they can as soon as they can. He envisions a movement similar to the climate science community's ice core collection effort, which ramped up in the late '90s and early 2000s in response to the realization that Earth's mountain glaciers were vanishing. Those ice cores are now stored at universities, laboratories, and museums around the world, where scientists will continue using them to study past climates for decades to come.
The urgency of the threat is just now becoming widely recognized. Last year, the Society for American Archaeology launched a Committee on Climate Change Strategies and Archaeological Resources to "[survey] what is happening to archaeological resources due to climate change" and come up with a strategic response. McGovern, who chairs the committee, recently joined European archaeologists at a major conference in the Netherlands to discuss the threats facing cultural heritage sites.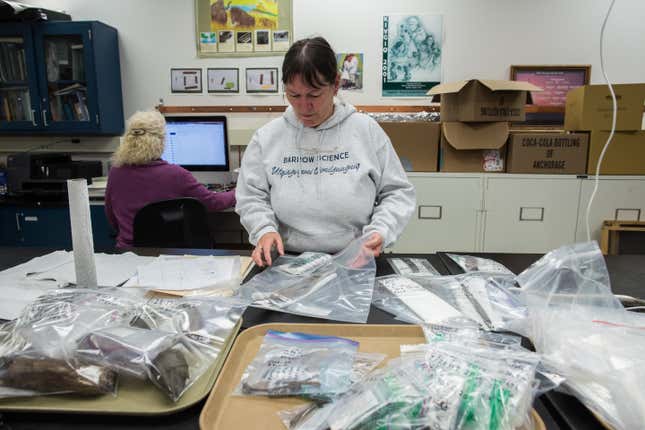 "It was pretty much a clean sweep," he says. "Everyone was expressing severe concern about climate change."

But it remains to be seen who would fund a global effort to survey and excavate vanishing sites—or even a fraction of them. In the U.S., the National Park Service has taken on a leadership role, both in terms of planning for climate change impacts on cultural heritage sites, and funding researchers who want to study threatened sites that reside within parks. But NPS funds are limited.
"I would say we've got fifteen years worth of proposals at current funding rates," Dan Odess, Chief Scientist for Cultural Resources at the NPS, tells me. "And they keep coming in."
"Under this administration, of course it won't happen in the states," George Hambrecht, an archaeologist at the University of Maryland, says when asked about the possibility of a large-scale effort to excavate threatened sites. "But there is evidence that the Europeans and Chinese [funding agencies] are going to pick up some of the research slack." Several other archaeologists echoed this sentiment.
Still, Hambrecht adds, "there's absolutely no way we'll be able to save everything."
Odess agrees. His own archaeological research is focused in the Eastern Canadian Arctic, a vast expanse of sparsely-populated forest and tundra with only a handful of excavation projects taking place during field season. He thinks archaeologists need to involve local and indigenous communities in order to decide which sites are worth saving. After all, many sites, like those around Utqiaġvik, are deeply significant to the people living there today.
"There are people's relatives out there," Jensen says, noting that every time a storm exposes new human remains at one of her sites, she gets a call about it. If possible, an excavation is arranged, and the remains are given to the city for repatriation and reburial in a modern cemetery. "The Elders' feelings are obviously not to let these people fall into the ocean."
"As people become more aware of their heritage, they're more likely to want to preserve it," says Tom Dawson, an archaeologist at the University of St. Andrews in Scotland.
Dawson would know. For nearly twenty years, he's headed up SCAPE (Scottish Coastal Archaeology and the Problem of Erosion), an effort to record, preserve, and monitor eroding archaeological sites along the Scottish coastline, by bringing together academics, government agencies, and local communities. It's one of the longest-running and most successful efforts to salvage archaeological sites threatened by environmental change. And the program is deeply dependent on local support.
"We take action at sites communities nominate," Dawson says, noting that SCAPE just completed a four-year field survey that updated older records on threatened coastal sites around Scotland. The survey was community-led, with locals using their mobile phones or maps to navigate to sites and assess their current condition. SCAPE is now drawing up a priority action list of sites based on the results of that survey.
SCAPE has helped Scotland unearth, document, preserve many renowned and historically-significant places, including the Wemyss Caves, which feature the largest concentration of in situ Pictish carvings in the world, the Eyemouth Fort, built in the time of Queen Mary of Scots by the English, and later rebuilt by the French, and a rare Neolithic site beneath the burnt mound at Meur, in Orkney.
It has also become a model for community-based archaeology elsewhere in the world, including in England, Ireland, and Wales. Dawson recently visited a community-based archaeological monitoring program in Florida, and met with researchers in Maine who are hoping to launch a similar effort.
"I think a lot of countries are starting to, if not get to the actual excavation, they are starting to work out what's at risk," he says.
But ultimately, lists of vulnerable sites and plans to survey them need to give way to action—and sooner rather than later. Jensen worries about what will happen if she can't get back out to Walakpa next summer. Years racing to excavate Utqiagvik's archaeological heritage before it slides into the sea has taught her that once an ancient settlement starts to go, it can go fast.
"It's not gradual," she says. "Some years there's no erosion, others you lose a whole chunk all at once." 

This article was made with funding from Participant Media, the creator of "An Inconvenient Sequel: Truth to Power."
Correction: An earlier version of this story listed Dan Odess' title as Assistant Associate Director of the NPS Park Cultural Resources Programs. He is now the Chief Scientist for Cultural Resources. We regret the error.