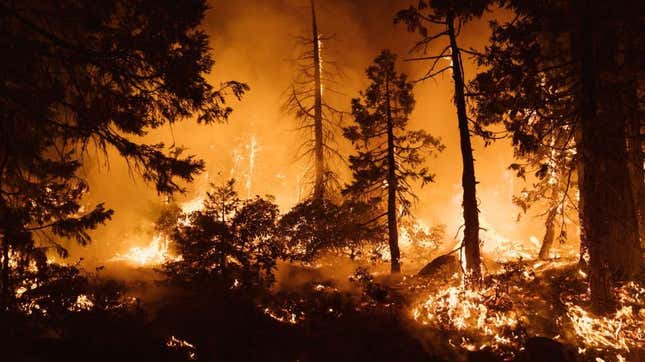 State Farm has stopped accepting new applications for home and business insurance in California this month due to wildfire risk and rising costs, the company announced on Friday.
Biggest Forest Fire in New Mexico History
In an official statement on its website, the insurance company stated that the decision was made because of rising construction costs that are outpacing inflation, a challenging insurance market, and "rapidly growing catastrophe exposure."
"We take seriously our responsibility to manage risk. We recognize the Governor's administration, legislators, and the California Department of Insurance (CDI) for their wildfire loss mitigation efforts," the statement said. "However, it's necessary to take these actions now to improve the company's financial strength. We will continue to evaluate our approach based on changing market conditions."

The announcement is a big shift because State Farm was the leading home insurer in California, according to the Insurance Information Institute.
And State Farm is right, extreme events like climate change-fueled wildfires are increasingly challenging businesses and services in California. Since 1950, the area burned by wildfires in California has increased, according to the California Air Resources Board's website. A report from the National Oceanic and Atmospheric Association outlining billion-dollar disasters that the U.S. experienced in 2022, has further highlighted the rising wildfire risk. 17 of the 20 largest wildfires by acreage in the state's history have occurred since the year 2000, according to NOAA. 18 of the 20 most destructive fires—which were measured by the number of buildings destroyed—have also occurred since 2000.
"In four of the last six years (2017, 2018, 2020, and 2021), California has experienced historically large and costly wildfires with losses well exceeding $65.0 billion," the report said.
And State Farm isn't the only insurance company that has changed business practices in response to climate-related catastrophes. In early 2022, American International Group (AIG) announced that it would no longer renew policies for thousands of homeowners in the state, the Wall Street Journal reported. AIG also cited rising costs and wildfire risks.
Want more climate and environment stories? Check out Earther's guides to decarbonizing your home, divesting from fossil fuels, packing a disaster go bag, and overcoming climate dread. And don't miss our coverage of the latest IPCC climate report, the future of carbon dioxide removal, and the un-greenwashed facts on bioplastics and plastic recycling.