Coinbase, one of the world's most popular cryptocurrency apps, surprised its users by adding Bitcoin Cash to its offerings on Tuesday. But it appears that not everyone trading in the altcoin was blindsided by the move. Before the announcement, prices for Bitcoin Cash began climbing in other markets, and now a self-investigation of possible insider trading has been initiated.
There are tons of cryptocurrency exchanges out there and some choose to list more options than others. GDAX, Coinbase's online exchange, is viewed as one of the most mainstream (and safest) exchanges around. Until yesterday, Coinbase only participated in three markets—Bitcoin, Ethereum, and Litecoin. Around 7pm on Tuesday evening it announced that it had added Bitcoin Cash to its service, and the price went wild. Within minutes, trading for the coin was suspended due to what GDAX characterized as "significant volatility."
According to the Wall Street Journal:
Shortly after the kickoff, the price skyrocketed, with Coinbase's online exchange GDAX showing quotes as high as $9,500, more than triple what Bitcoin Cash trades at on other exchanges.

After Coinbase announced the halt, a company spokesperson said unfilled orders would be removed and no new orders would be accepted. GDAX said all of its Bitcoin Cash markets would remain offline until noon Wednesday, Eastern Time. GDAX later said it paused trading because of significant volatility "to ensure a fair and orderly market."
But that wasn't the only problem in this rocky launch. Cryptocurrency watchers noticed that the price of Bitcoin Cash was climbing like crazy before Coinbase's announcement and they cried foul. December has been a fairly unremarkable month for the altcoin, and it had spent four days hovering around the $1,800 range according to CoinMarketCap. By mid-day on Tuesday, it had jumped to $3,800. Coinbase currently lists the price around $4,300. Though it's still available for trade on other exchanges, Coinbase hasn't restored the option to buy or sell it as of Wednesday afternoon. And Coinbase CEO Brian Armstrong released a statement outlining his company's internal trading policies and saying that an investigation had been launched to find out if any employees had improperly profited from the news that they'd been privy to a month ahead of the public. Armstrong wrote:
All Coinbase employees and contractors were explicitly prohibited from trading Bitcoin Cash and from disclosing our launch plans over a month ago. This was communicated multiple times via multiple channels to employees. For instance, I made sure it was emphasized at our Friday Q&A sessions, and in emails sent to all employees...

Given the price increase in the hours leading up the announcement, we will be conducting an investigation into this matter. If we find evidence of any employee or contractor violating our policies — directly or indirectly — I will not hesitate to terminate the employee immediately and take appropriate legal action.
G/O Media may get a commission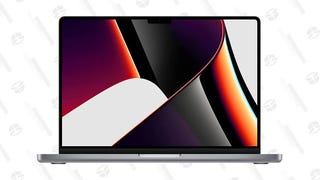 Save $300
2021 14" 1TB MacBook Pro
Armstrong also emphasized that the ban on personal trading for employees is still in effect. It remains to be seen what he might mean by "appropriate legal action." We've reached out to Coinbase for further comment and will update this post when we receive a reply.
Bitcoin Cash is the result of a fork from the main Bitcoin that occurred back in August. The code that Bitcoin Cash runs on is designed to fix some of the issues that old school Bitcoin has faced with scaling. It's taking significantly more time and computing power for Bitcoin miners to create new blocks, and following arguments among the primary developers about how to fix the issue, Bitcoin Cash was spun off. Assuming that your bitcoin was kept in an account with an organization that adopted Bitcoin Cash, you received an equal amount of the forked token on August 1st automatically.
Since Coinbase didn't deal with Bitcoin Cash at the time, its users were left out, but Tuesday's decision aimed to correct that. "All customers who held a Bitcoin balance on Coinbase at the time of the fork will now see an equal balance of Bitcoin Cash available in their Coinbase account," it wrote in the announcement. "Your Bitcoin Cash balance will reflect your Bitcoin balance at the time of the Bitcoin Cash Fork." This meant a lot of people were suddenly getting in on the Bitcoin Cash game, in addition to the fact that the cryptocurrency would be tradeable on an app that recently topped Apple's download charts.
For now, all eyes are on Bitcoin Cash while other tokens are seeing dives. If it turns out that insider trading was involved at Coinbase, users will likely have to scream their outrage into the void until some type of regulation for the market is set in stone.
[Coinbase]