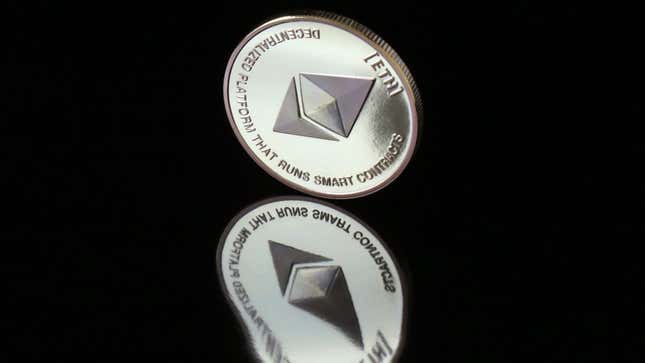 Popular crypto industry news outlet CoinDesk has retracted a pair of opinion articles criticizing the founder of the cryptocurrency TRON and the head of US investigations at Chainalysis, a company specializing in financial analysis and forensics of crypto. CoinDesk claims the articles were removed because they contained "personal attacks" lodged against the two, but one of the authors tells Gizmodo she believes there's another, more nefarious explanation: CoinDesk's close connections with the crypto industry.
The Biggest Crypto Heists of 2022…So Far
"If you retract an article while you have such a huge conflict of interest, that's just not okay," one of the authors, who wrote under the pseudonym L0la L33tz, said in an interview with Gizmodo. "In my opinion, this is coming all the way from the top."
CoinDesk Chief Content Officer Michael Casey disagreed with that characterization in a statement sent to Gizmodo. Casey said the company retracted a recent story critical of TRON founder Justin Sun, written by "awbivious awbivious" and published on August 26, because it breached CoinDesk's policy prohibiting pseudonymity for authors of articles engaged in "highly personalized attacks." The retraction led to a review of CoinDesk's other editorials for "consistency's sake." That review, Casey said, ultimately resulted in the retraction of L0la L33tz's article, which had been published more than a month prior.
L0la L33tz says she approached CoinDesk in July about writing a story about statements made by Chainalysis US Head of Investigations Elizabeth Bisbee who had testified this summer in the case involving the US government's arrest of Roman Sterlingov, the alleged operator of a cryptocurrency money laundering site called "Bitcoin Fog." Attorneys in the case were trying to determine the scientific accuracy and reliability of Chainalysis' Reactor software, which is sometimes used by law enforcement to trace the origins of alleged crypto crimes.
In her declaration, Bisbee admitted the company's clustering methods "have not been peer-reviewed," and was unaware of margins of error rates for the software, court documents show. This led L0la L33tz to work with CoinDesk to ultimately publish a story titled, "Chainalysis Investigations Lead Is 'Unaware' of Scientific Evidence the Surveillance Software Works" on July 24, according to a version of the article reviewed by Gizmodo. L0la L33tz told Gizmodo the article was received well by the editor she worked with and that she was encouraged to write more stories like it in the future.
But that all changed in the ensuing month. CoinDesk retracted the editorial on August 26 and added a note saying the "personal attack against a senior Chainalysis employee never should have been published." L0la L33tz claims she only discovered the redaction after stumbling upon it online, saying that nobody at CoinDesk reached out to her to suggest corrections to alter the article or even to inform her that the story had been retracted. The editor who had previously encouraged her to continue writing about Chainalysis said they would no longer be able to take more stories from her, citing recent layoffs impacting nearly 40% of staff as the reason.
L0la L33tz disagreed with CoinDesk's representation of her article as a personal attack. She maintains she was simply making an argument based on publicly available statements made in court proceedings, something writers often rely on to buttress their claims. L0la L33tz told Gizmodo she was in touch with lawyers involved in the Sterlingov case prior to pitching the eventual article.
"Unless the personal attack amounts to me suggesting that she [Bisbee] should consider pursuing an art history degree," she said. "I would have been happy to retract that sentence, as the article stands for itself."
L0la L33tz defended her decision to use a pseudonym and argued it isn't the equivalent of an unidentified unknown internet poster. Regardless, she said she was never given the opportunity to change her byline to her formal name, something she says she would have considered.
"I'm not anonymous," she said. "I was in touch with all of their editors. 'They could have just talked to me." Similarly, L0la L33tz went on to defend the practice of writing under pseudonyms broadly, saying she believed it lets writers express their positions more freely.
"There's a great quote that if you give man a mask he'll give you the truth," she said. "I think that's very accurate. It's nothing unheard of in journalism."
Though it's not unheard of, anonymity can often lead to headaches for publications. In its retraction notice, CoinDesk acknowledges it publishes anonymous or pseudonymous bylines "from time to time" in order to protect writers' privacy and prevent them from becoming the subject of potentially dangerous doxing campaigns. That anonymity protection has its limits, though. CoinDesk said it "cannot grant the cloak of that identity protection to a writer who launches an outright personal attack against an individual."
"It's sad that CoinDesk let all of these amazing people go that had a backbone," L0la L33tz.
CoinDesk was acquired by a cryptocurrency-focused venture capital company called Digital Currency Group (DCG) in 2016. DCG's own website shows its investment in Chainalysis, which the company made in 2015. CoinDesk's editorial independence policy says DCG has no involvement with editorial decisions and proclaims that CoinDesk journalists will cover companies in DCG's portfolio, "as they would any other subjects, without fear or favor."
"Neither of those articles was retracted due to DCG," CoinDesk said in a statement. "CoinDesk's editorial department has always been and is operated independently of DCG." Digital Currency Group did not immediately respond to Gizmodo's request for comment. Chainalysis declined to comment.
CoinDesk used a nearly identical copy-and-paste rationale to justify its decision to retract another editorial on August 26, that one based on a more recently written post comparing TRON founder Justin Sun to recently arrested Terra founder Do Kwon and disgraced FTX founder Sam Bankman-Fried. Gizmodo was unable to identify or contact the author of that post, "awbivious awbivious." Multiple commenters online noted that TRON and other Sun-related entities appear to have paid for advertisements on CoinDesk's site in the past.