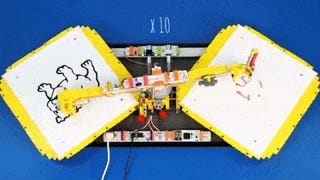 littleBits is one of the coolest products to hit shelves in recent years. With their interlocking modular electronics you can create tiny machines to build a myriad of projects, from simply learning about basic electronics to developing web attached systems to start your coffee in the morning, open your blinds, even adjust your thermostat.
Arthur Sacek, took the new littleBits brick adapter and combined a roller switch, servo, light sensor and other modules with Lego to create a spinning machine that duplicates an image with neat spinning accuracy. He even attached a cloud module to notify his phone when printing is complete. The Spinning Replicator won't be replacing your home multi-function printer anytime soon, but it looks like a really great project for Lego fans and owners of littleBits to try.
[Credit: psfk.com]
---
You're reading Leg Godt, the blog with the latest Lego news and the best sets in the web. Follow us on Twitter or Facebook.