When he's not busy slaughtering the Marvel Cinematic Universe's crooked, street-level criminals, Frank Castle actually enjoys quiet nights in his secret bunker curled up with a good book.
During the first half of Netflix's The Punisher series, we see on more than one occasion that Frank spends a fair amount of his time reading books, in addition to brooding about the horrific murders of his family members. Though the scenes don't exactly have the biggest impact on the show's plot, they're moments that break up the intense violence and give us a little insight into what kind of man Frank Castle is beyond his antiheroic persona. Want to read along?
Moby Dick by Herman Melville
Of all the books we see Frank reading, Moby Dick is perhaps the most on-the-nose in terms of its allusions to one of The Punisher's overarching ideas, which is why it's well-suited for the series premiere. Much like Captain Ahab, Frank Castle is both haunted by and singularly focused on a desire to achieve a specific, personal goal, despite a cost that doesn't always make sense to those around him. For Ahab, the goal is catching the white whale, and for Frank it's attempting to rid the world of evil by any means necessary.
G/O Media may get a commission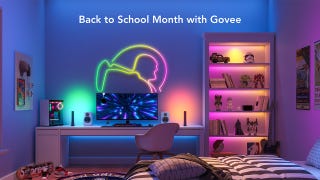 Back to School
Back to School Month with Govee Sale
The Crack-Up by F. Scott Fitzgerald
Later in the same episode, we also see that Frank's been making his way through F. Scott Fitzgerald's essay collection The Crack-Up, originally published by Esquire magazine in 1936. The parallels between Frank's life and Fitzgerald's are less immediately apparent, but in The Crack-Up, Fitzgerald ruminates on the ways in which his life is fundamentally changing as the shining star of his fame begins to fade. In a way, the same is also true of Frank, in the sense that he's still reeling from the Punisher's initial moment of fame and glory during Daredevil's second season, which we see Frank stepping away from as The Punisher begins.

It's canon, people: Frank Castle enjoys feminist critical theory, as seen by his book selection in episode two. Kim Toffoletti's Cyborgs and Barbie Dolls: Feminism, Popular Culture and the Posthuman Body is an examination of the concept of "posthumans"—people whose very existences defy the traditional definitions of humanity. Given that he's a powerless vigilante living in a world full of super humans with fantastic abilities, the book is a fitting choice.
The Picture of Dorian Gray by Oscar Wilde
Technically speaking, this book isn't Frank's—it belong to his brother-in-arms Billy Russo, and he reads it during his and Frank's tour in Afghanistan. Fans of the comics know that Russo, who begins as Frank's ally in The Punisher, eventually becomes Jigsaw, one of his most deadly enemies. The Punisher takes its time with putting the puzzle pieces of Jigsaw's origins together, and Dorian Gray does, in a way, mirror how the show handles his character.
Though he's initially presented as a handsome charmer (like Gray), we gradually begin to learn more about Russo's ruthlessness and willingness to destroy the lives of others in pursuit of his own personal gain. Much to the horror of those who know him, Russo becomes more and more monstrous as the series progresses and, like Dorian Gray's portrait, the evil inside of him slowly begins to manifest itself in the way Russo interacts with people.