When Concrete first appeared in the mid-1980s, the discourse around comics' artistic merit was undergoing a profound shift. Excitement around works like The Dark Knight Returns, Maus, and Watchmen expanded the public's ideas about what comics could achieve. Concrete never became part of the shorthand list for "mature comics." That's a shame, because writer-artist Paul Chadwick's signature creation is one of the best examples of what a fully rounded aesthetic looks like.

Concrete debuted in Dark Horse Presents #1, an anthology series from the Oregon-based publisher. Years later, Chadwick retold Concrete's origin story in a 1997 miniseries called Strange Armor, which beautifully distills the pathos and tenderness that make the character special.

After being abducted by aliens, political aide Ron Lithgow finds his brain encased in a body covered in flexible, lightly textured gray stone. The transplant makes him super-strong, super-fast, and more durable but robs him of his senses of taste and fine touch. His sense of sight becomes superhuman, too, and the best way I can think to sum up the ethos of Concrete is that it's a restless investigation of what it means to be alive. Once he gets irrevocably changed into something forebodingly alien, he spends his new existence appreciating beauty he once took for granted and looking at how our lives impact others and the planet we live on.

G/O Media may get a commission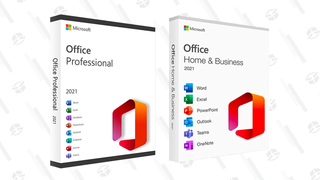 89% off
Microsoft Office Professional 2021 Lifetime License
There's a notional paradox at the core of Concrete's appeal: He looks tailor-made to bust heads and smash whatever gets in his way, but largely spends most of his "adventures" thinking and talking through things. In most Concrete stories, Chadwick's biggest accomplishment is in making existential meditations feel as empowering as the coolest superpower. He can also spool out pages of tense conversation that feel as energetic as a last-stand gunfight or martial arts battle might feel elsewhere. You can see that in Think Like a Mountain, where Concrete falls in with a band of ecological activists and gets pulled from sympathetic inaction to full-blown stunt protests over the course of the series.

Looking back at this work almost two decades later, it's amazing how strident some of its political and philosophical elements are. The painstaking level of research done by Chadwick is apparent on every page—often decorated with the names of various animals drawn in the panels—and you can feel him at least trying to give equal weight to a status quo he abhors. But Think Like a Mountain urgently pushes forward an agenda, driving its arguments home by asking us to look past personal comforts. In Think Like a Mountain and other Concrete stories, Chadwick pleads for Americans to think about living lives where we consume less, birth fewer babies, and implement policies like gas taxes. Chadwick knows that such ideas will be unpopular but presents them anyway because the alternative—accelerating ecological collapse—is a nightmare.

One of the best things about Chadwick's art is how he'll suddenly surprise you with phantasmagorical page designs. For the most part, Concrete's stories deal with grounded, down-to-earth drama, but Chadwick often interprets them via whimsical, filigreed border treatments and kaleidoscopic visual metaphors. "Look how wonderful our lives are," his art whispers. These existences that we call boring and sulk through, they have meanings that we blind ourselves to.

Chadwick's concerns about humanity's impact on the planet get their most penetrating treatment in The Human Dilemma. It's another series focused on Concrete becoming a symbol for a cause.

This time, Concrete accepts a contract to be a spokesperson for a rich fast-food mogul who wants to promote voluntary sterilization as a form of population control. Human Dilemma's personal dramas happen across a wide swath, in Concrete's right-hand man Larry's marriage proposal to his girlfriend, the emotional connection between scientist Maureen and Concrete that hasn't been able to be expressed physically, and up-close dealings with the cycle of life and death.

Almost 30 years from his first appearance, it's still amazing how unabashedly heady and emotionally intimate the Concrete oeuvre feels. I've never met Paul Chadwick and, to the best of my memory, never interviewed him. But the essays, third-person narration, and dialogue he's written in Concrete make me feel like I know him. The psychedelic page designs and art-history enthusiasm seem to offer insight into his sense of humor and passions. It's not all eco-centric drama, either. Concrete comics have had serial killer thrills, Hollywood satire, and body-horror sequences, too. Nevertheless, reading Concrete is like receiving an ultrasound picture of what Paul Chadwick has cared about as he's lived his life. To me, that's the most mature kind of comics (or any art form) that one can make.
---
Second Printing is a recurring column where I'll be re-reading and re-engaging with comics from my personal past.